This product is no longer available.
It's the perfect burst of inspiration for those who've not yet got themselves out from the winter way of thinking, leaving their gardens to fall into a neglected, overgrown state.
If you're looking to get your garden ready for the summer, we have just the thing to help. Designed to help you tackle many garden chores with just one tool, the Gtech HT04 2-in-1 Garden Tool is the perfect companion.
Garden Tool Versatility
A versatile garden tool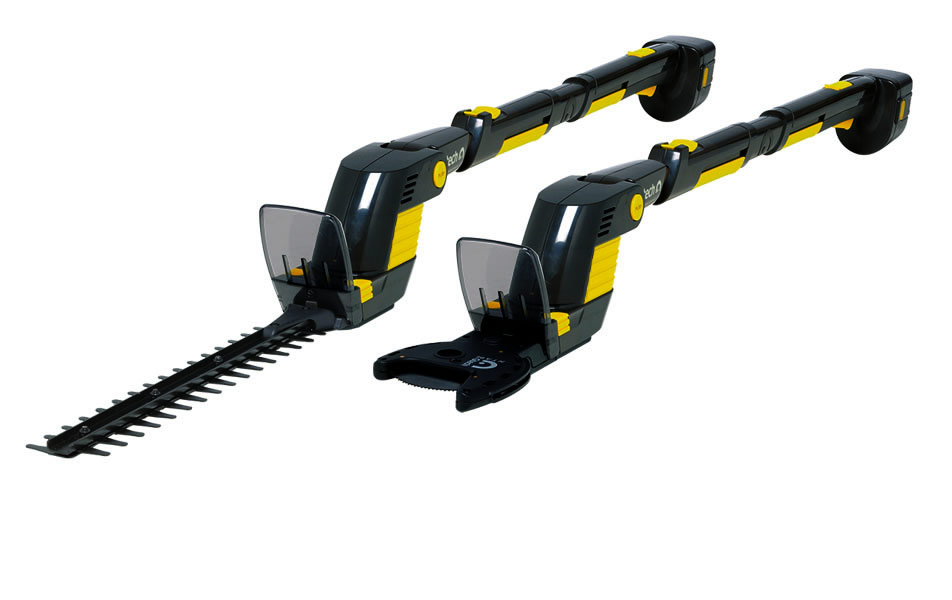 , it features two easily changeable cutting heads. In just no time at all you can go from hedge trimmer to branch cutter. You can easily trim overgrown hedges with its adjustable 335mm blade, or even prune them into an impressive display!
Meanwhile its circular saw blade can be used to take down the garden's thicker, more awkward branches.
HT04 Attachments
There are also attachments for the HT04 that make it easy to take care of the lawns and patios too.
The grass shears attachment, available to buy from our customer support section, attaches directly to the unit.
It uses the power provided by the garden tool's powerful NiCd battery to shear through the patches of grass that are hard to get to with a lawnmower – with precision cutting teeth.
Patio Cleaning No one really wants to be on their hands and knees on a warm day, scrubbing the gaps in the patio to remove weeds. With the patio cleaner attachment, we've made this frustrating task a thing of the past.
Again, it slots straight into the unit's head and features two brushes – a nylon brush designed for use on soft stone and traditional block paving, and a zinc-coated variant, designed to tackle tougher surfaces like granite.
It's a garden tool fully equipped to overcome the challenges blocking your path to a garden you'll be proud to show off to family and friends.
To find out more about our HT04 2-in-1 Garden Tool, visit: http://www.gtech.co.uk/garden-tools/ht04-hedge-trimmer-branch-cutter.html
If you want to find out more about the Gtech HT04 attachments, go to: http://www.gtech.co.uk/support/ht04-hta03-grass-shears-attachment.html and http://www.gtech.co.uk/support/gtech-ht04-patio-cleaner-attachment.html