How to get back into cycling (with little effort!)
The thought of getting back into cycling after a long layoff can be daunting. From a few months off over the winter to years away from your bike, getting back on a bike doesn't always yield instant success – it will take time to build up your confidence and the distance you can travel at any one time. Wondering how to start cycling again? Here are 7 tips to help you get back in the saddle and enjoying cycling again.
Getting back into cycling
Cycling is a great way to keep fit and explore new places you may not necessarily get the chance to visit otherwise. After some time away, don't have high expectations to perform as well as you did before. Follow our tips below to prepare yourself for cycling again.
1. Think about what to wear
If you're put off by the thought of having to invest in a whole wardrobe full of cycling clothes, consider this. The only essential cycling equipment you need is a bike and a helmet. It's as simple as that. These days most helmets are lightweight and well-ventilated – offering you high levels of comfort as well as good protection. Check that your helmet has passed the European standard CE mark or the US Snell B90/B95 standard test. Check the helmet's label if unsure.
Other than a helmet, you can wear pretty much anything you like on a bike – just as long as you're comfortable. When you seriously get back into cycling you may want to think about getting designated cycling clothes, but they aren't essential to begin with.
2. Make sure your bike fits your body
Before setting off on your first bike ride, inspect your bicycle to make sure it still fits you and is in good working order. Visit your local bike shop and ask for bike fitting – they'll take your measurements and see if they're right for the bike you have. They can also help if you're suffering from any aches and pain – making sure cycling won't aggravate them. Suffering from neck pain? Try raising the handlebars to avoid further strain. How about knee pain? Raising your seat can make cycling more comfortable.
3. Does it work properly?
If your bike is the right size for you, check that it works properly. Some areas to check:
Wheels & tyres: make sure the wheels are secured properly to the bike and that the tyres aren't damaged. Take this opportunity to check the tyre pressure as well (shown of the tyres' sidewall).
Brakes: try the brakes to see if they press onto the tyre rims or rotors.
Gears: spin the rear wheel and shift through your gears – they should transition smoothly.
Chain: is it well lubricated? Spin the rear wheel and watch to make sure it runs smoothly.
Frame & headset: examine the frame to make sure there are no cracks. To check the headset, apply the front brake and move the bike back and forward. Check that there isn't a lot of movement.
4. Have you thought about an eBike?
Investing in an eBike is a fantastic option for getting back into cycling. eBikes are fitted with a battery and motor, to give you a boost as you cycle. Put off cycling by the thought of challenging hills? That's where the eBike comes in. Pedalling powers the generator in the rear wheel to give you a boost of up to 15mph. You can choose how much assistance you get from your eBike – ideal for building up your performance.
When you start out, combine pedalling yourself with the eBike's assisted motion. As you progress, only use the assistance when you're feeling tired and could do with a break. Eventually, you'll only want help going up the most challenging hills. Buying an eBike gives you a great head start when you're getting back into biking.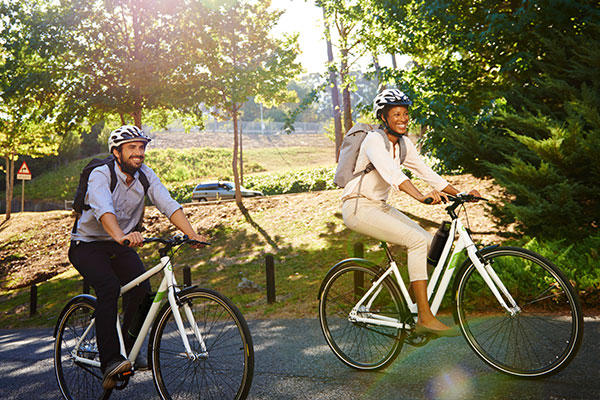 5. What accessories should I take?
Other than your helmet, there are a number of bike accessories you may want to think about investing in as you're getting back into cycling.
Bike lock: keep your bike safe if you're leaving it for any period of time.
Headlights and taillights: helping you to see and be seen better in the dark.
Bell: the cyclist's version of a car horn.
Pump and puncture kit: keep your tyres in great working order as you cycle
Allen key: in case anything comes loose
You can either carry your equipment in a rucksack or in bags attached to your bike. Just make sure that you're properly balanced!
6. Social cycling
If you don't know how to start cycling again, see what other people are doing. If your friends or family members are keen cyclists, ask them if they don't mind you tagging along with them. Alternatively, see if there are any cycling groups in your local area you can join. It's a great way to meet new people with the same interest as you, and the social aspect will make you want to continue.
A good cycling group will be run by an experienced leader, who will organise a good route for riders of all abilities. Be sure to tell the leader that you're new to cycling, and they'll keep an eye on you.
7. Set yourself goals
Getting back into cycling is going to be a gradual process. You can't expect to be as good as you once were when starting out again. Forget about what you used to be able to do. Instead, set yourself some realistic goals. Start off with some short rides, a couple of times a week to get your body used to cycling again. Then, slowly start cycling further and more regularly. Set yourself achievable targets – certain distances in a certain time is a good place to start. Once you've beaten these targets, set yourself new ones.
Other targets don't revolve around cycling performance, but more personal goals. You may set yourself weight loss or fitness level goals.
These are our top 7 tips for helping you get back on your bike and enjoying cycling. Stick at it, and you'll be amazed at the progress you make.
Thinking about investing in an eBike? At Gtech we have a selection of different eBikes to suit you. Discover our eBike range today!