Achieving an immaculately tidy home isn't easy if you're a pet owner. As lovable and cute as your four legged friends are, they can leave behind a trail of fur, dirt and strong pet odours.
We've designed a powerful pet vacuum cleaner, designed to tackle the particular challenges faced by pet owners on a daily basis – introducing the AirRam K9.
The AirRam K9 builds on the cordless convenience of our best selling AirRam. We've toughened the components used to give it added durability and resistance as you vacuum fur, hair, dirt and debris from your home's surfaces.
Keeping a clean home with a cat or dog can mean having to vacuum multiple times a day. With its strengthened aluminium components, the AirRam K9 can deliver high performance whilst withstanding daily wear and tear.
Like the AirRam, our K9 pet vacuum cleaner is powered by a 22V lithium-ion battery. From a full four-hour charge, it provides up to 40-minutes of powerful performance.
Combined with the upgraded brush bar, the AirRam K9 can make light work of a variety of challenges. The powered rotating brush bar works alongside our unique AirLOC system∆ to pick up large debris from the surface as you push forwards, and sucks up embedded dust and pet hair on the backstroke..
It also features an ultra-low profile handle, allowing you to glide it underneath chairs and into tight corners where dirt and fur might otherwise get missed with a standard vacuum cleaner. This cordless cleaner also used full width LED lights along the front of the AirRam K9, leaving nowhere for dirt, dust and pet hair to hide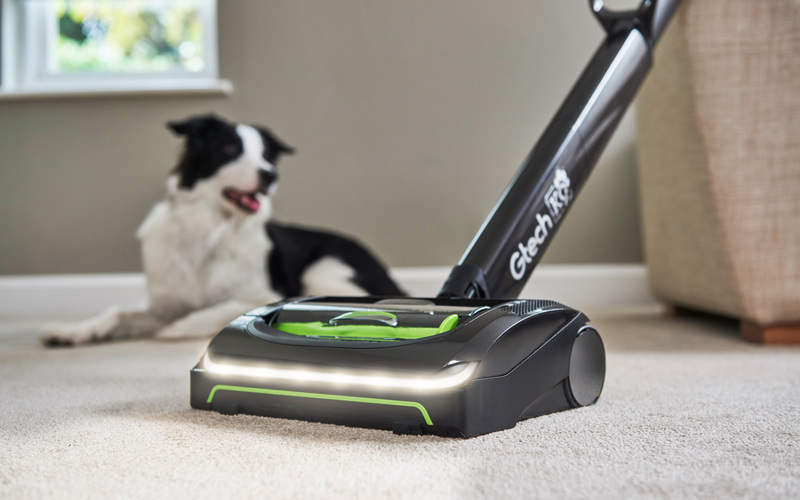 As you vacuum, AirRam K9's innovative scented vacuum cartridges give off a pleasant fragrance to drown out pesky pet odours. They're refillable too – meaning you can ensure your room remains smelling fresh long after you've finished vacuuming.
To find out more or order the Gtech AirRam K9 cordless pet vacuum, visit our product page on our website.