Small Lawnmower SLM50 (body only)
This small lawnmower is the perfect partner for your GT50 or HT50. Weighing just 2.5kg on its own, or 3.5kg fully assembled, this is our lightest lawnmower yet.
And assembly is simple – just attach your GT50 or HT50 pole and battery, turn the safety switch and go. Plus, there's no grass box with the SLM50, saving you the time and hassle of emptying it, and making storage even simpler.
Compatible with GT50 and HT50 Δ
Lightweight at 3.5kg*
Single-handed operation
Adjustable cutting height
Compact for easy storage
Free Next Day Delivery
2 Yr Warranty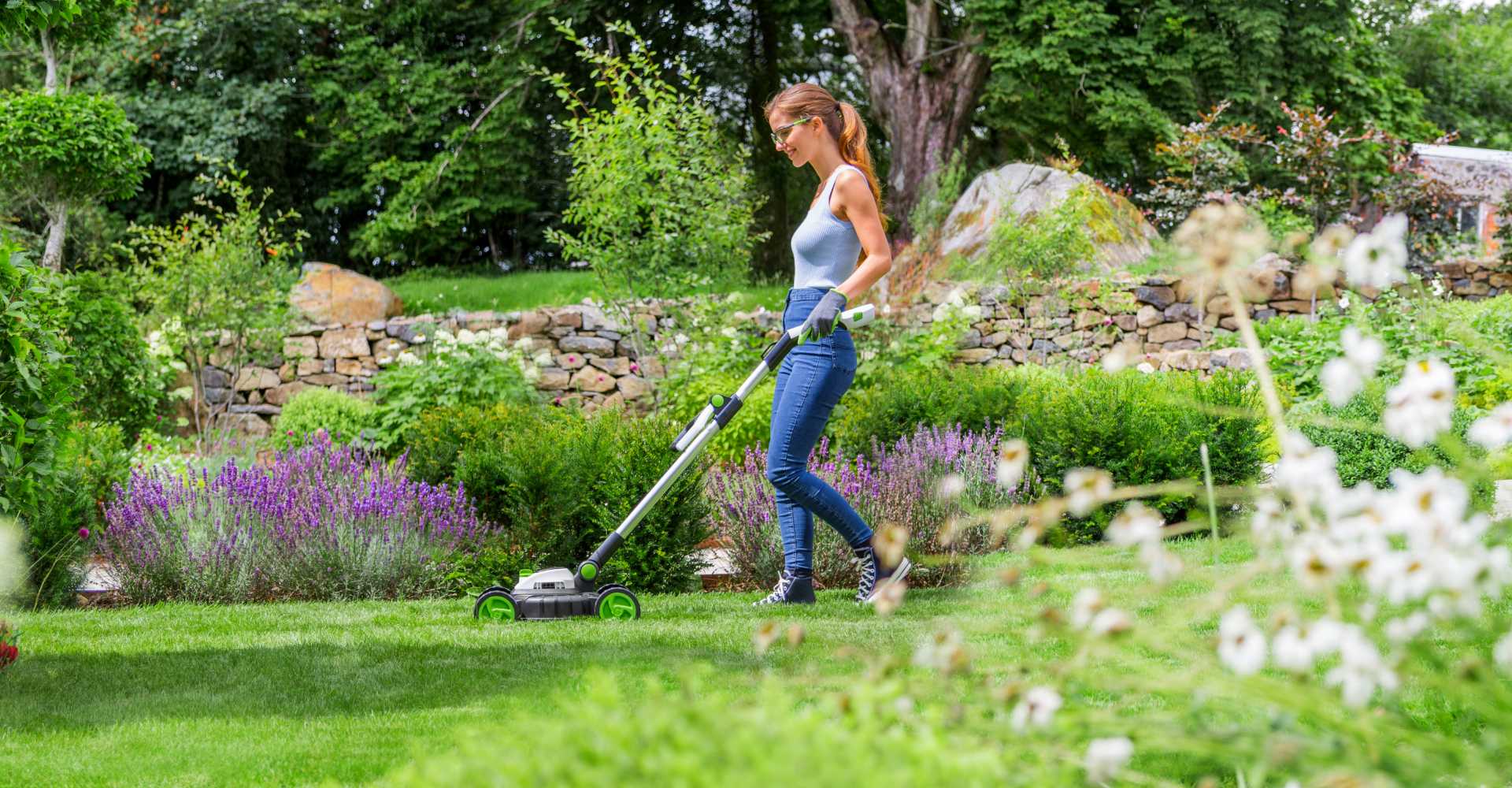 Lawnmower for small gardens
With no cord to get caught around the garden, you've got complete freedom to move safely and quickly wherever you want to go. And with up to 30 minutes' run time** from a single charge, you can cover up to 150m² – that's over half a tennis court! You won't get caught out either. The interchangeable, 18V lithium-ion battery's 4-LED display lets you know exactly how much charge you have left whilst in use.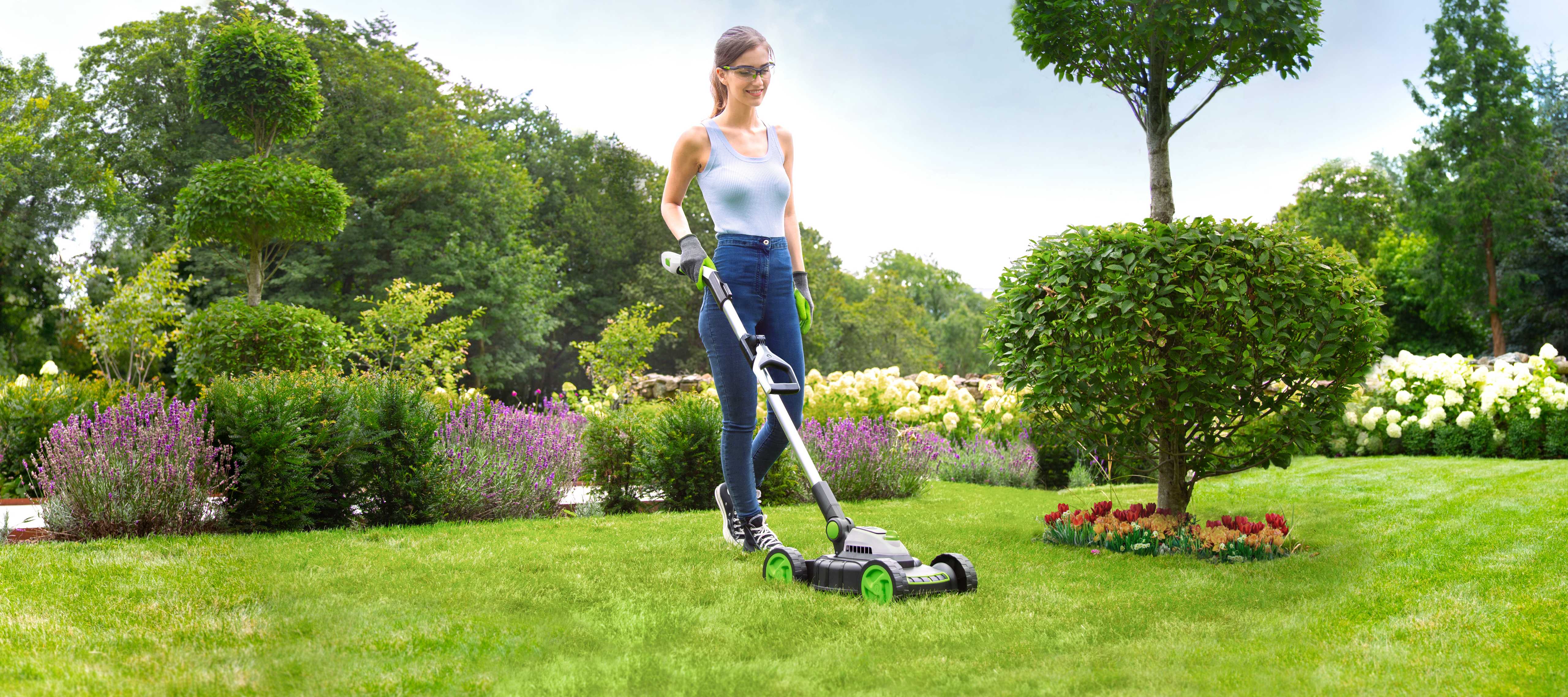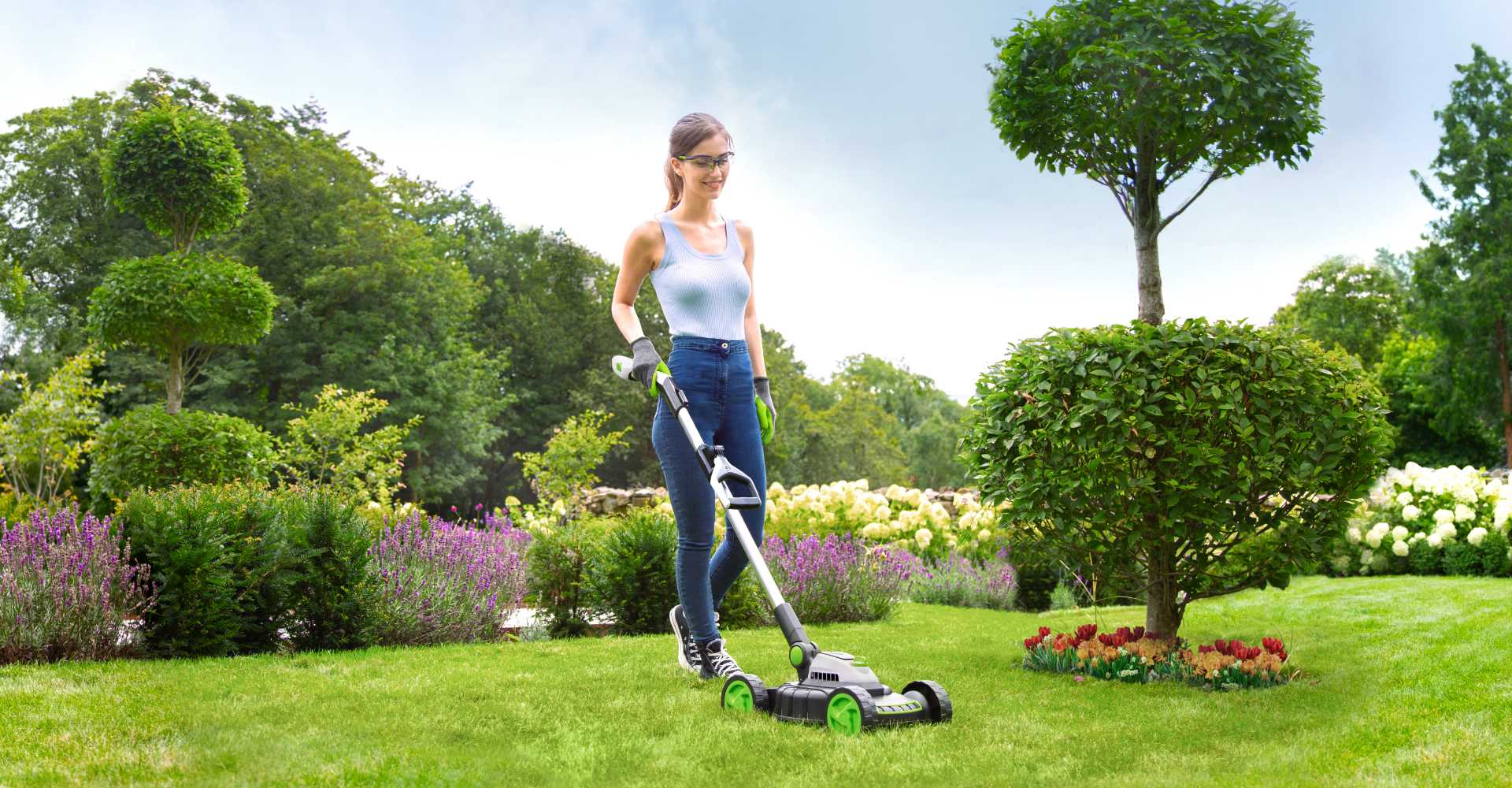 Lightweight lawnmower
Weighing just 3.5kg fully assembled*, you can manoeuvre the SLM50 with ease throughout your garden. Being so compact and lightweight, you can comfortably push this mini lawnmower around your garden using only one hand, making it our best lawnmower for a small garden. It's the perfect solution for cutting narrow areas and smaller spaces typically unsuited to larger models.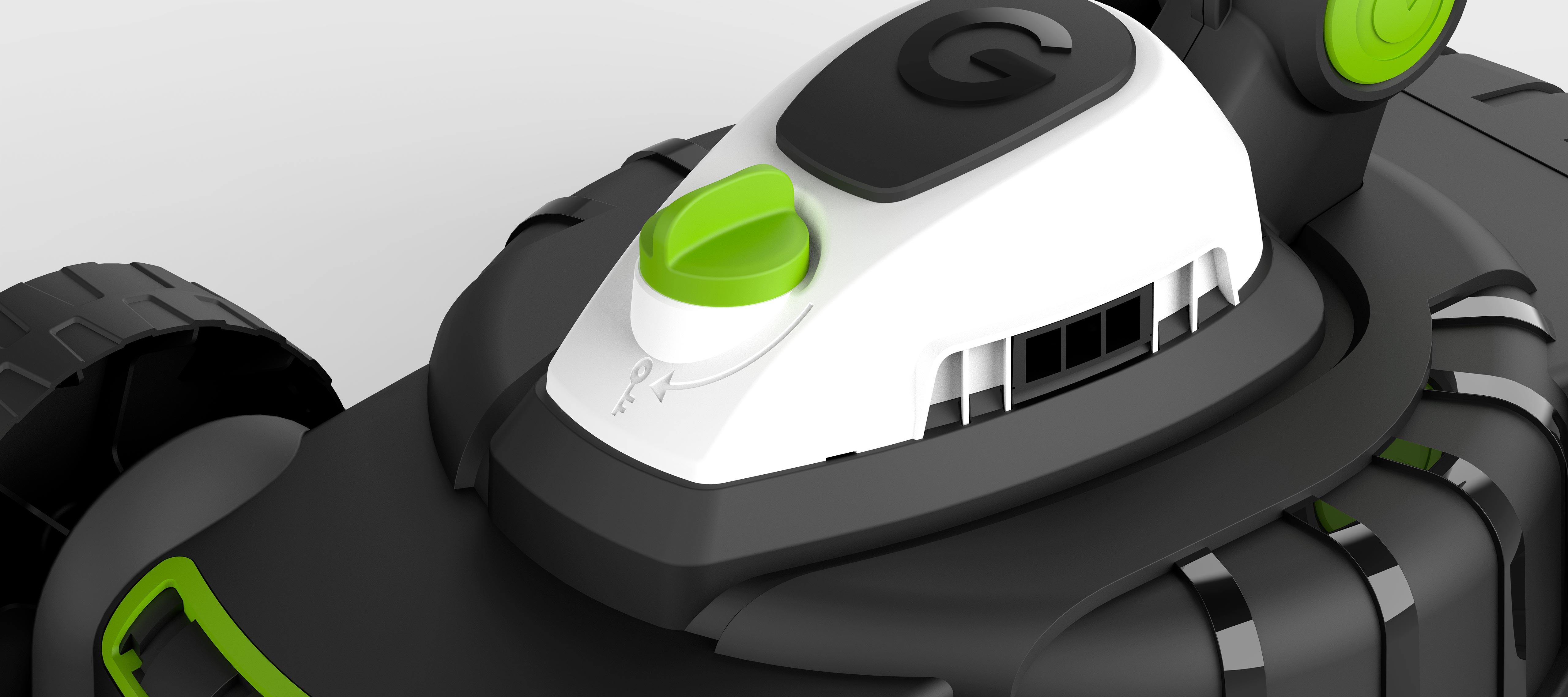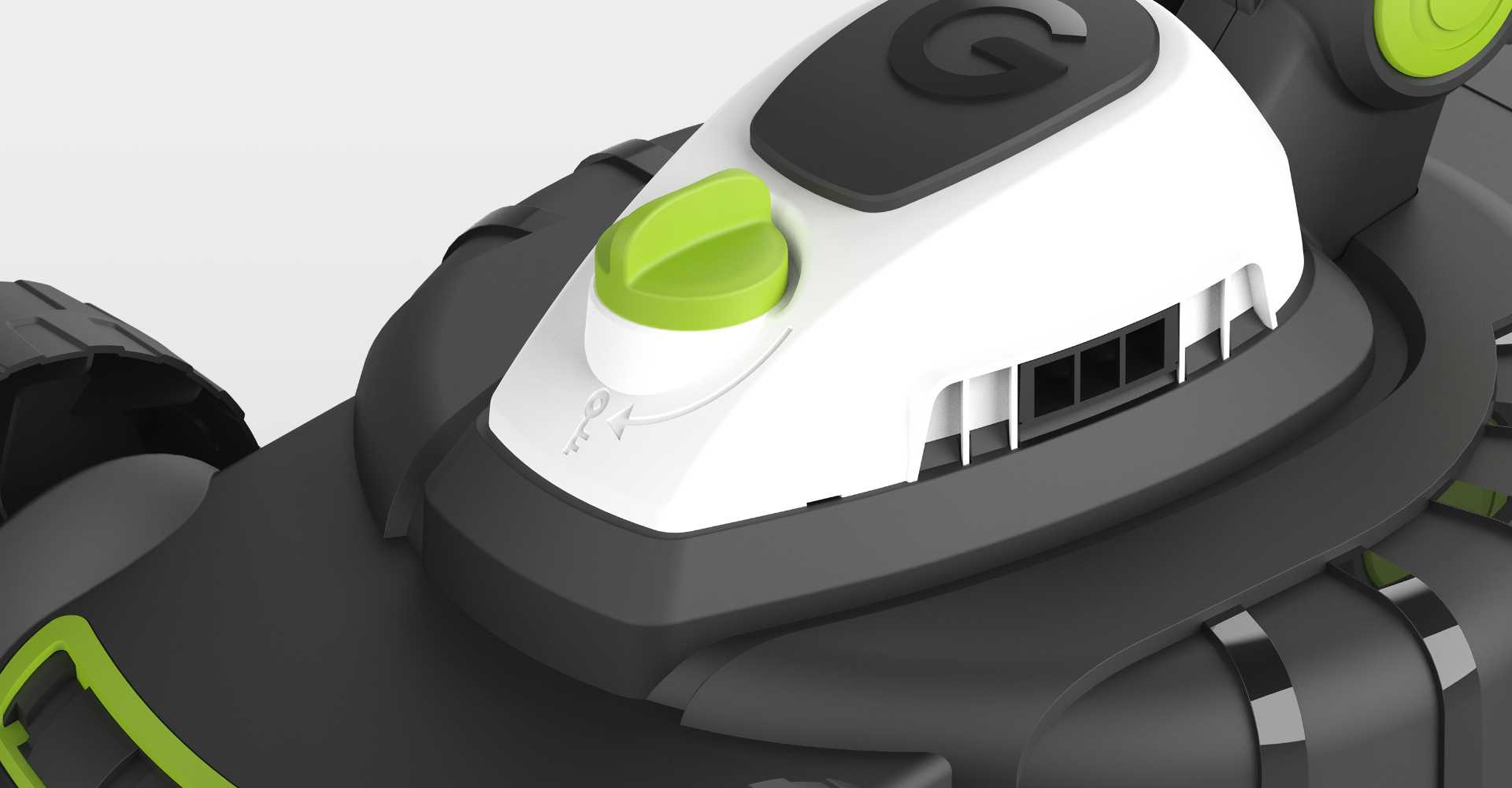 Your lawn, your way
The SLM50 has an adjustable height mechanism to help you achieve your lawn goals. Simply switch between 40mm and 50mm by manually adjusting the front and rear pair of wheels. And without the hassle of a grass box, grass cuttings can naturally decompose and self-fertilise the soil, keeping your lawn healthy.± It's a win-win!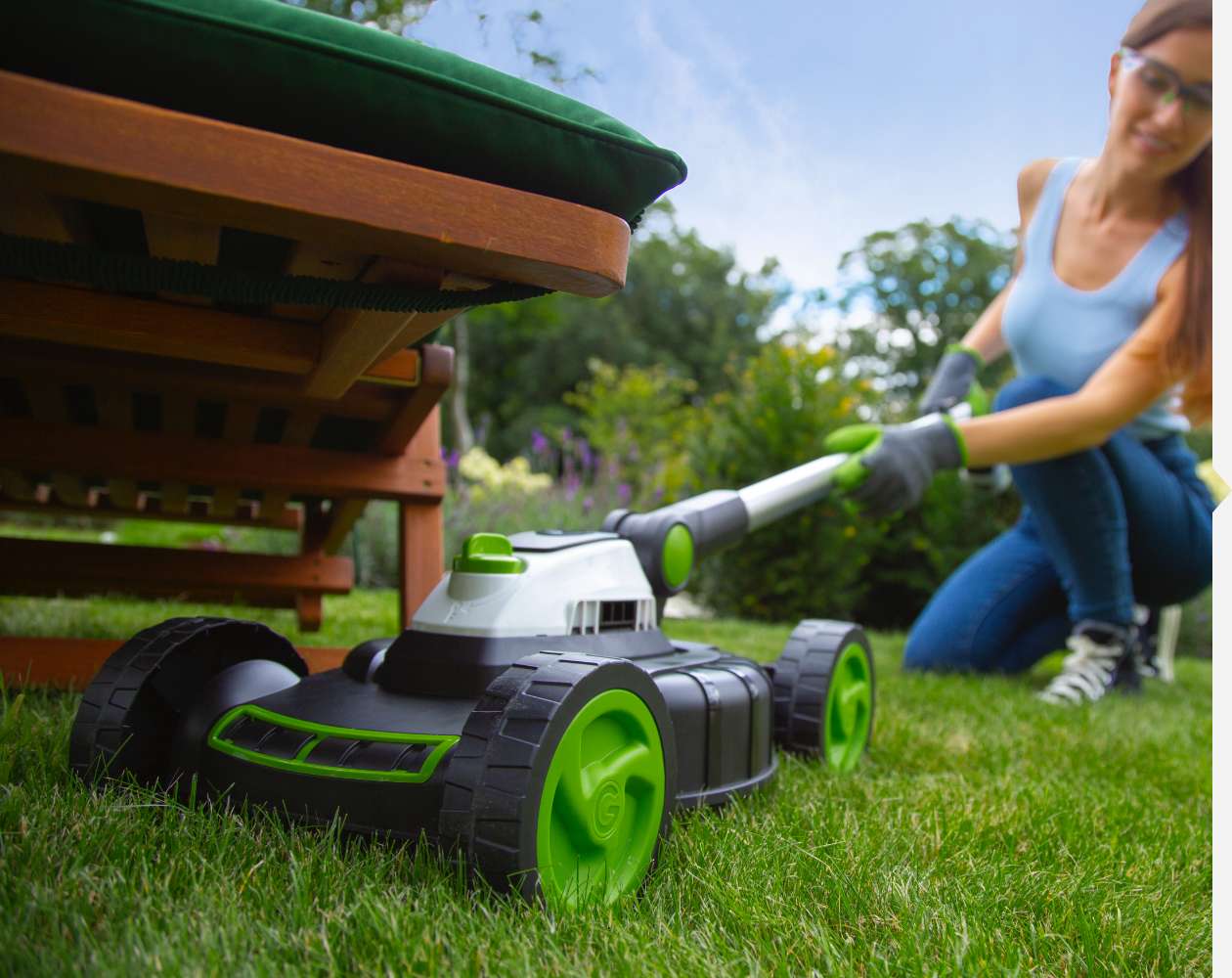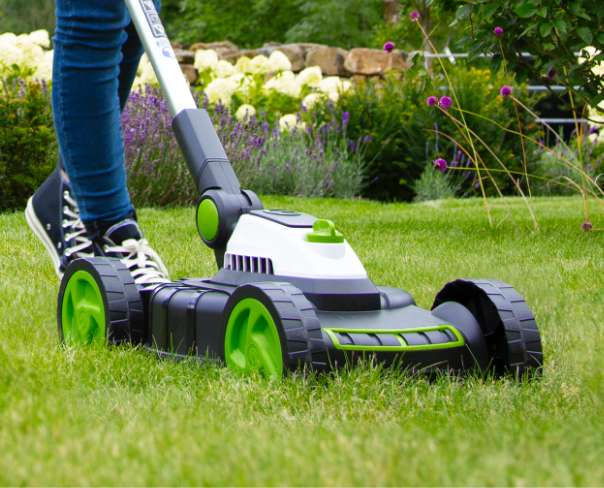 Keeping a low profile
We've kept our small electric lawnmower's height to a minimum so you can slide it beneath your trampolines, tables, chairs and other garden features. This saves you the hassle of moving your furniture, and leaves you with more time to enjoy your garden.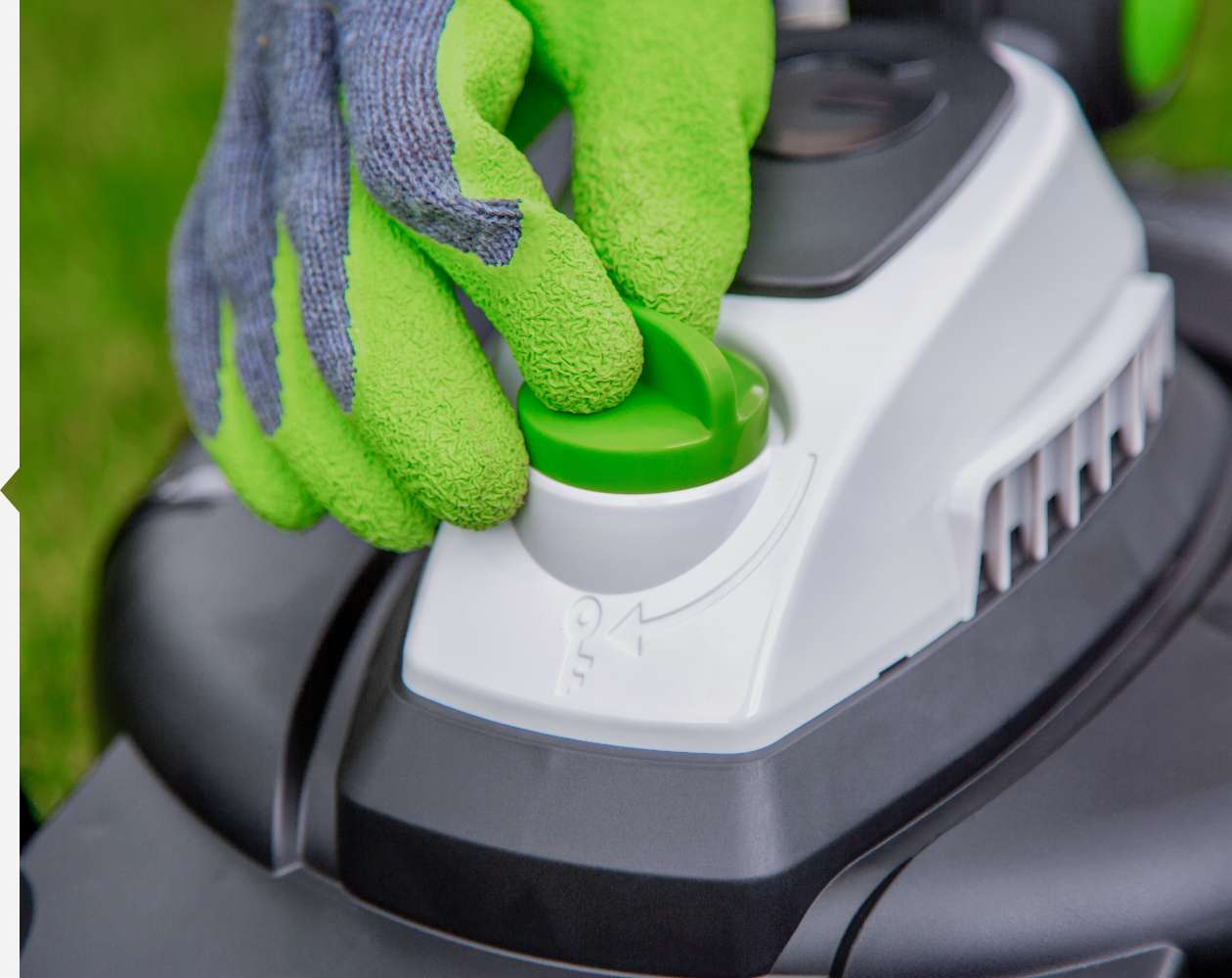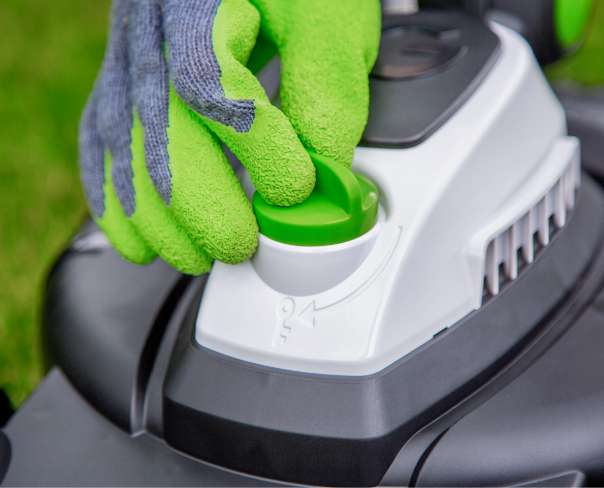 Safety first
Your safety is our priority, which is why the SLM50 has three safety features. The operational safety key must be in the 'on' position and the safety switch must be pressed in for the mower to start. Plus, the new 'auto-off' safety lock activates when the handle is raised to a high angle (over 66°), giving you peace of mind when storing your mower.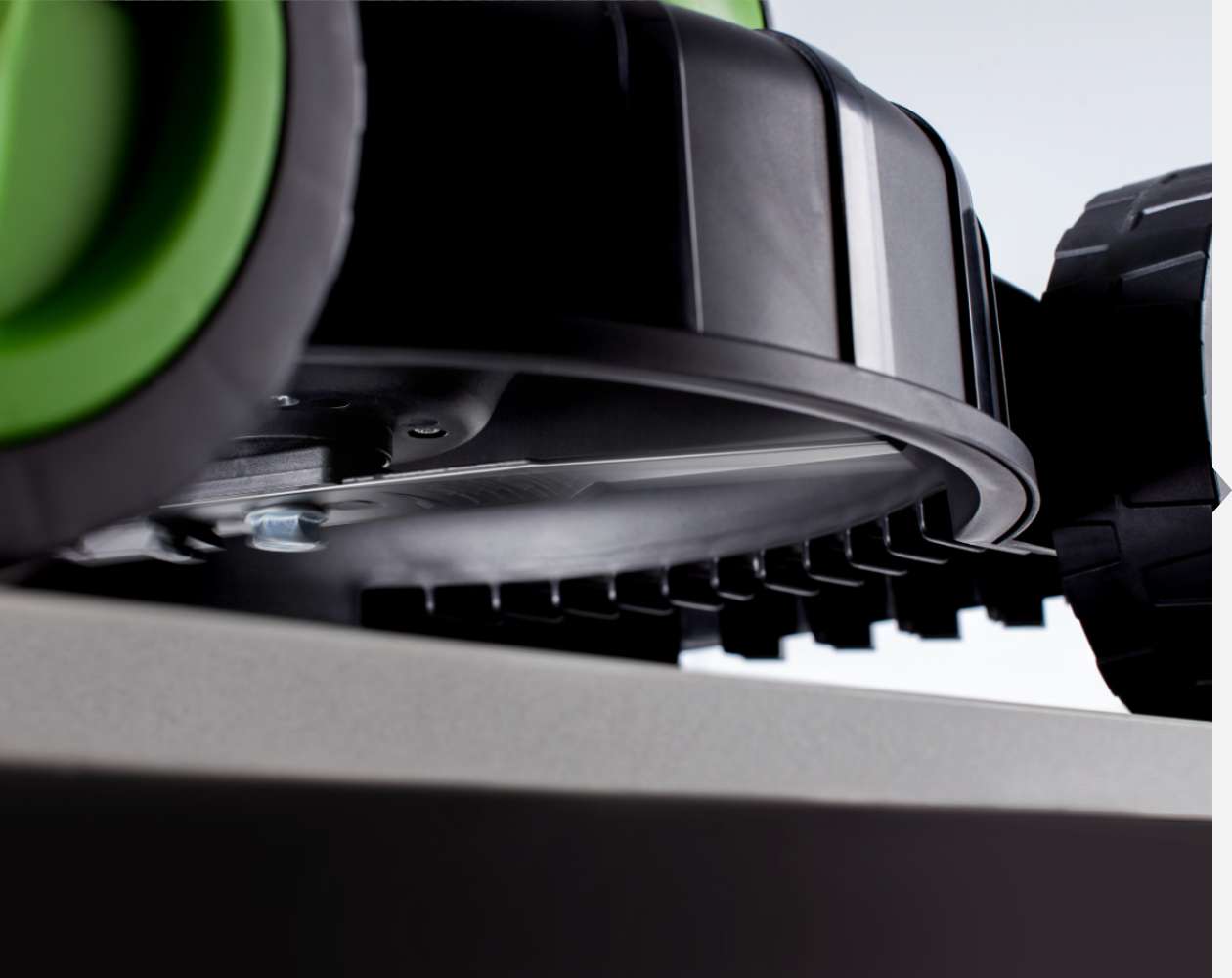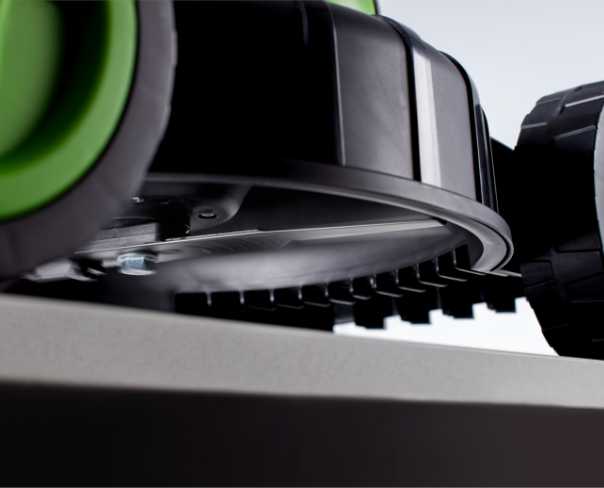 Omni-blade cutting technology
Our lightweight lawnmower uses a counter-balanced single rotary blade and has a 25cm (10 inch) cutting width. Made from carbon steel, the SLM50's sharp and durable blade quickly rotates at a constant speed of 5200 RPM (max.).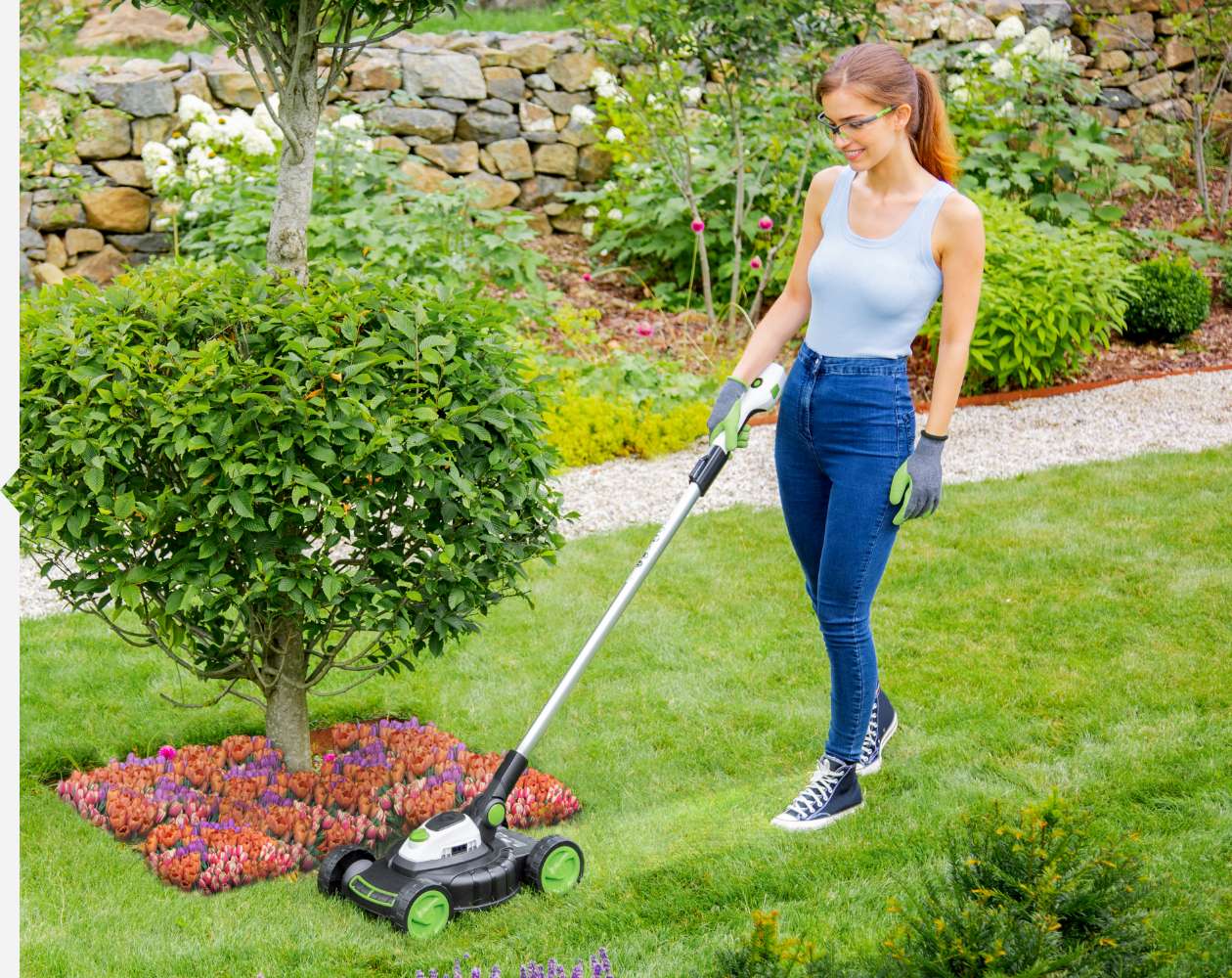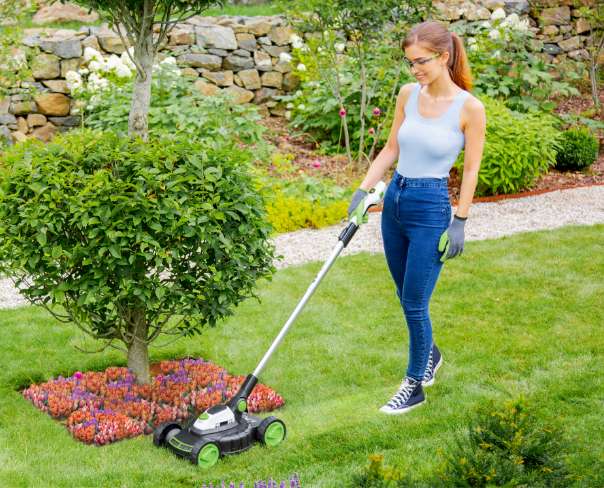 Edge-cutting with ease
As well as assisting with manoeuvrability, having a chunky 14cm wheel on each corner means the blade can rest centrally in the base. The cutting blade can then reach the sides of the mower, helping you achieve a close cut even next to your walls and fences, or other edges of your lawn.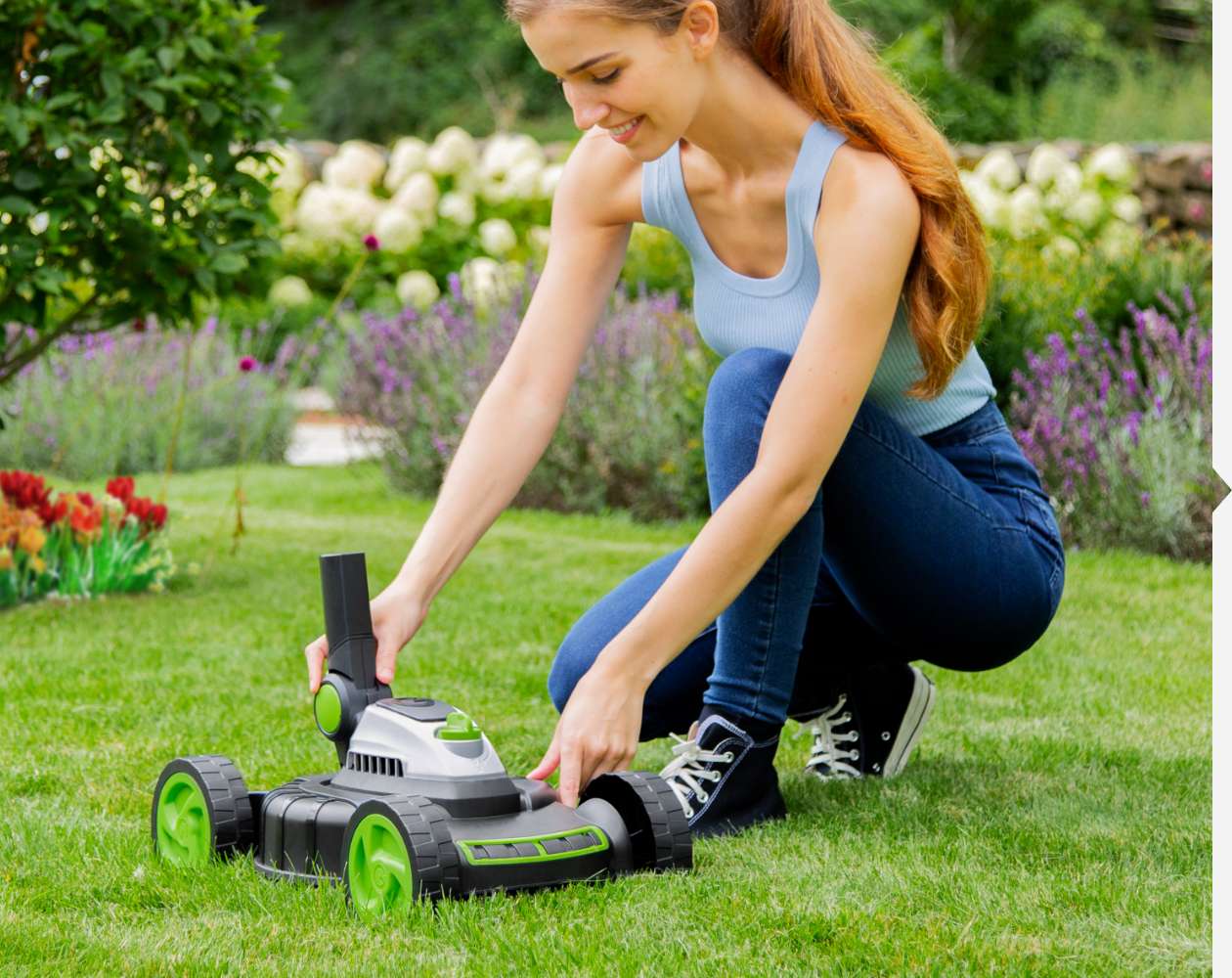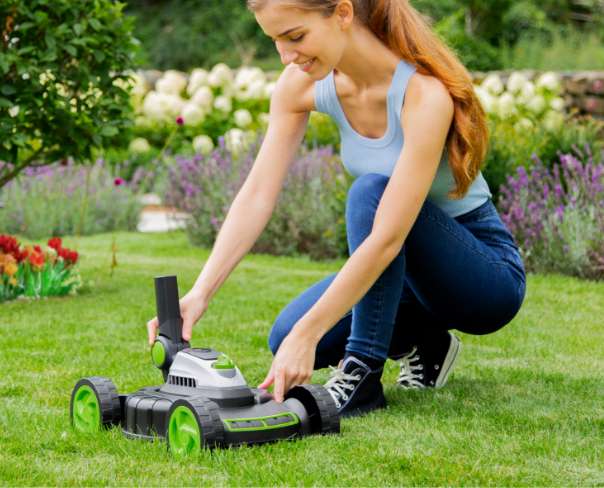 Compact lawnmower
How you store your SLM50 is up to you. You can disassemble the mower with ease in a few simple steps and store the components separately. Or, our small lawnmower can be left assembled in the 'park position' with the safety lock activated.
Δ Product is body only and requires either Grass Trimmer or Hedge Trimmer handle, battery and charger to fully operate. The SLM50 chassis will connect with most Gtech GT and HT models. Grass trimmers: ST20, GT3.0, GT4.0, GT50 Hedge trimmers: HT50, some HT3.0 (with QR code reference starting '38-xxxxxxx' only)
*Weights: SLM50 + GT50 handle & battery = 3.5kg. SLM50 + HT50 handle + battery = 3.4kg
±For best results, grass needs to be cut frequently, meaning the smaller clippings go unnoticed.
** Runtimes quoted may vary depending on condition of grass being cut.
All products ordered from www.gtech.co.uk (or by telephone from Gtech) are covered by a 30-day money back guarantee. If you change your mind we ask that you return the product to us in its original condition with your proof of purchase within 30 days. We will happily either exchange it or give you a full refund. Please note that we are happy to arrange the return carriage but we do ask that you cover the cost which incurs a charge of £10. Our 30 day money back guarantee does not affect your statutory rights.
Includes 2-year manufacturer's warranty.