What was the most popular COVID cleaning product? In a year of panic buying and empty supermarket shelves, how did Brits really respond to the cleaning challenges of an unprecedented pandemic?
We know what you're thinking. It's got to be over-priced sanitisers and surface wipes that sold like gold-dust, right? Well, actually, the cleaning product everyone wanted the most last year was… a new vacuum.
We came to this surprising conclusion by analysing 20 of the most frequently searched cleaning terms on the web. Other COVID cleaning terms we analysed were: surface cleaner, surface wipes, mops, buckets, washing up liquid, dust pan, brush, kitchen roll, air freshener, fabric conditioner, steam cleaner, microfibre cleaning cloth, drain cleaner, washing machine tablets and sponges.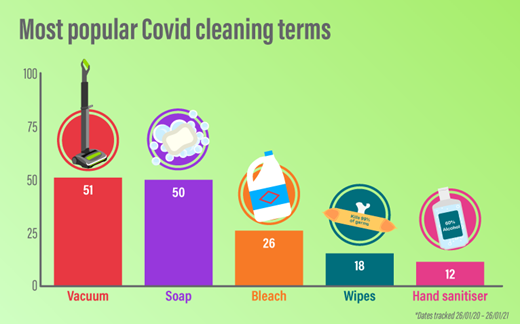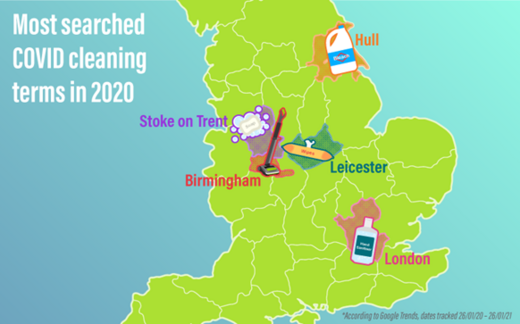 You can find the full squeaky-clean commentary, below.
A clean sweep
Uber-COVID cleaning products, like hand sanitiser and anti-bacterial wipes had their day, sure. The empty supermarket shelves back in March and April can attest to that. But they were a mere blip on the cleaning spectrum. As the graph below shows, there was a rush for supply – and then, nothing. Public interest simply plummeted.
Bleach peaked later in the year when Donald Trump suggested that the chemical solution could cure coronavirus. The World Health Organisation vehemently refuted this outlandish claim and searches returned to normal as bleach slipped from the daily headlines. And so, it was left to vacuum and soap to clean up the nation!
For soap, increased search volume was no doubt spearheaded by nationwide handwashing campaigns, bolstered by viral videos of celebs humming Happy Birthday in front of a sink. And vacuums? Well, these old reliables have been the fabric of British cleanliness for over a century – and we don't see it changing any time soon!