What's your least favourite room to clean? The bathroom? Ours too. Long hair clogging up the plugs, mould starting to creep into the shower – it's never a fun task. That's why we've created a guide on how to clean a bathroom - talking you through exactly what needs doing and how to do it.
If you're wondering how to clean bathroom tiles or the bathtub is in need of a deep clean, you'll have your bathroom looking spotless in no time with our step-by-step guide:
Bathroom cleaning tips
You use the bathroom to thoroughly clean yourself – so why would you not give it the same treatment? And if you keep on top of regular bathroom cleaning - at least once per week, it will become less of a chore.
The best bathroom cleaning products
To properly clean a bathroom, you will need:
Rubber gloves
Cleaning spray
Bleach
Toilet brush
Mop
Bucket
Glass cleaner
Duster
Wipes
Liquid descaler
How to clean a bathroom: step by step
1. Empty the bathroom
Before you begin, remove everything from the bathroom – that is, everything that isn't fitted! Remove soaps, shampoos, deodorants and everything else, giving you full access to all surfaces. Be sure to clear everything from the floor too. Take this opportunity to re-house everything that doesn't need to live in the bathroom. It's amazing where things can end up! You can also use this as a chance to throw out any old bottles or products that have been gathering dust for far too long…
2. Dust the bathroom surfaces
Now it's time to remove any dust lying around. Dust all the surfaces, and don't forget the harder to reach areas, such as light fittings, corners and skirting boards. Afterwards, vacuum the floors to pick up all fallen debris from the surfaces. If you'd rather, you can use a handheld vacuum cleaner with a dusting attachment.
3. Clean the toilet
Knowing how to clean a toilet properly is key to bathroom hygiene. Regularly scrubbing with bleach is a proven way to kill all those toilet germs and leave your toilet looking and smelling great. Wearing rubber gloves, apply bleach to the toilet bowl, making sure you get all the way up and around the rim. Then, spray the outside of the toilet and all sides of the seat before wiping them clean. Scrub the inside of the bowl with your toilet brush, starting from the top. Then close the lid and flush – now enjoy a gleaming toilet!
4. Clean the shower and bath, don't forget to clean the shower head!
Apply your cleaning spray to the shower and bath, not forgetting the surrounding walls and the shower tray. Leave for a moment to let the cleaner go to work on the dirt. Then, scrub everything clean before rinsing off. If your shower has a curtain, wash it regularly to prevent mould from building up. If it isn't machine washable, soak it in the bath with a weak bleach solution.
Every so often, you'll want to descale the showerhead. Use an old toothbrush and a liquid descaler. If any holes are still clogged, use a needle to clear them. If you want to get creative with your cleaning, you could always try using a bit of lemon juice. The acids in lemon juice work wonders when breaking down grimy patches, and will give your shower a fresh, citrus fragrance.
5. Clean the sink and surrounding area
Spray and wipe down the sink and taps. If there's a large build-up of soap on the sink or soap dish, scrub with a sponge to loosen. Take this opportunity to clean any glass in the bathroom – if you want to know how to clean shower glass, mirrors, cabinets and other glass surfaces, follow these next steps. Spray all areas with your glass cleaning spray and wipe to give it a clear, shiny finish. Old dry newspaper works wonders on glass, but if you've already got to the recycling some kitchen towel will do the trick.
Lemon juice also works wonders with taps. You can mix it with baking powder and apply it to your taps with a toothbrush (not one you're going to use later!), and then rinse with your cleaning spray and cloth.
6. Mop the bathroom tiles
The next step is often forgotten, and is an ideal option if you're wondering how to clean bathroom tiles. We all know that cleaning bathroom tiles can be a chore but when done correctly, you'll be left with fresh and odourless flooring in no time.
Fill your bucket with cleaning solution and warm water. Add the mop, squeezing out any excess water. Start mopping in the corner that's furthest away from the door and mop yourself out of the room. This way, you won't walk over areas you've already cleaned, which risks making them dirty again.
7. Vacuum again
If you have a carpeted bathroom, you can skip step 6. You might want to clean the carpets in your bathroom more often. This way you ensure that the floor is spotless, and your bathroom will look as good as new.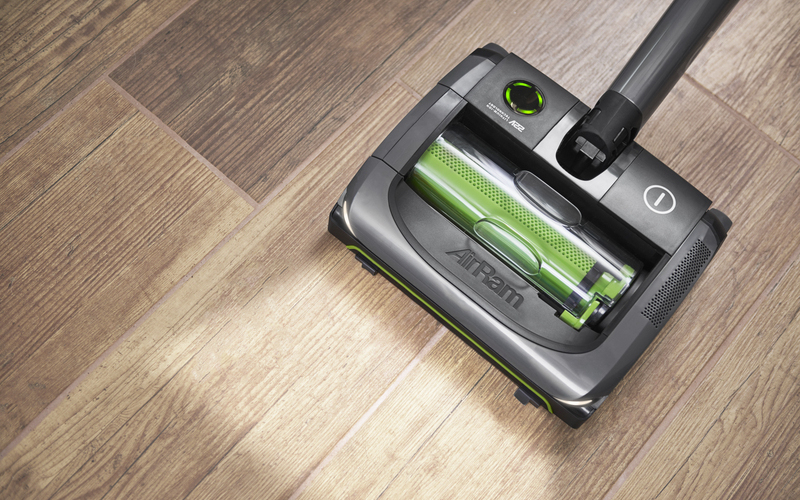 The best way to clean a bathroom
To keep on top of your bathroom cleaning, if you've got the space, you might want to consider keeping a handheld vacuum cleaner in there, for any quick clean ups. Check out Gtech's range of handheld vacuums if you're in need of a new one.