Now that the kids are back to school, it's time to get the house back to normal. Whether it's grass and dirt that's been traipsed in after a garden picnic or crumbs and flour on the floor after a day of baking, your home probably hasn't been in its usual state over the summer break. Use this time to deep clean and get ready for the new term.
Autumn cleaning for back to school homes
It's common sense, sure, but having a good old tidy up will make a huge difference to your back to school cleaning schedule. You'll feel much better at the visible difference after you've picked up all the toys, books and clothes flung around the house. It's so satisfying to clear out a room and get everything back in its place now that the kids are back to school. Getting rid of any obstructions now will also make cleaning your house so much easier when it comes to dusting and vacuuming.
Dusting all surfaces
It's hard to keep on top of regular chores while you have kids running around. You might notice that your surfaces and furniture have accumulated a lot more dust during the summer. Use polish and a duster to tackle the added dust across your coffee table, windowsills and surfaces around your home. Skirting boards can be tricky, so use a long, thin tool on your vacuum to reach this area, being careful not to scuff the wood or walls. The Gtech Multi comes with a variety of attachments, such as the crevice tool. This is perfect for reaching into awkward areas as well as giving cleaning precision higher up and lower down. For any dust on the floor, you'll want a lightweight cordless vacuum cleanerthat's manoeuvrable and efficient…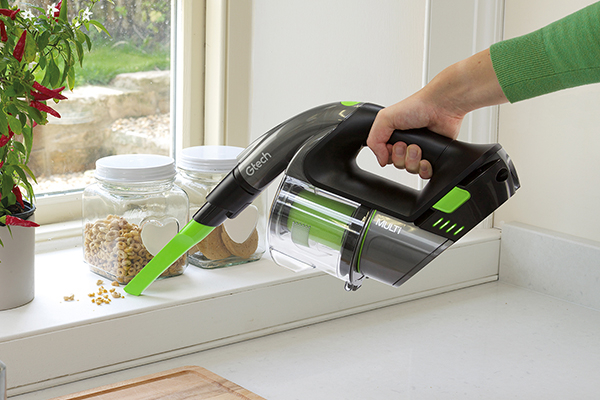 Unsurprisingly, your floors probably aren't looking their best right now. Vacuum across hard floors and carpeted areas to lift as much dirt, dust and mess as possible. Our Gtech AirRam is ideal for the job – it's a cordless vacuum for hardwood floors and carpets, so you don't need to worry about changing plug sockets as you move around each room. With no settings to change either, you can glide seamlessly across the floor surfaces of your home with this lightweight cordless vacuum cleaner. We've added unique Gtech technology to help the vacuum lift large objects as well as fine dust and dirt, which you can find out more about on the Gtech AirRam product page.
How to clean sticky handprints
Little ones tend to leave little fingerprints everywhere, and they're normally very sticky and smeary. Once you've tackled your surfaces with polish, check your windows or any glass panels for damage. You can buy glass spray or make your own DIY glass cleaner using vinegar and water. Vinegar is great for cleaning greasy or sticky patches, as the acid cuts straight through and leaves the surface gleaming. Use 3 parts water to 2 parts vinegar and clean with a spare pillowcase or newspaper. This natural solution is great for homes with children and is a fantastic alternative to toxic chemical products. Don't worry about the smell – it fades very quickly.
Stairs are one of the hardest places to clean, and they present a huge range of issues. It can be hard to balance your vacuum on each step and dragging a heavy upright behind you can be exhausting. The Gtech AirRam is a lightweight cordless vacuum cleaner that can be used on stairs. Our hand-held Gtech Multi is also a great option for a stair vacuum cleaner as it's highly portable and has a number of attachments that can tackle a variety of surfaces and awkward crevices. The Gtech system offers a great solution for autumn cleaning now that the kids are back to school.
Damage control in the kids' rooms
If you usually have a cleaning schedule in place, it's likely to have slackened over the holidays. If your kids haven't quite kept up with their chores, you might want to give their rooms a quick once-over, too. Get them back on track with a new chore rota and bulk-buy gold star stickers! Cleaning doesn't have to be boring, and lots of children really enjoy helping out and feeling more mature by being part of a family schedule. The AirRam is a lightweight upright vacuum cleaner and even children can manage to vacuum their own rooms.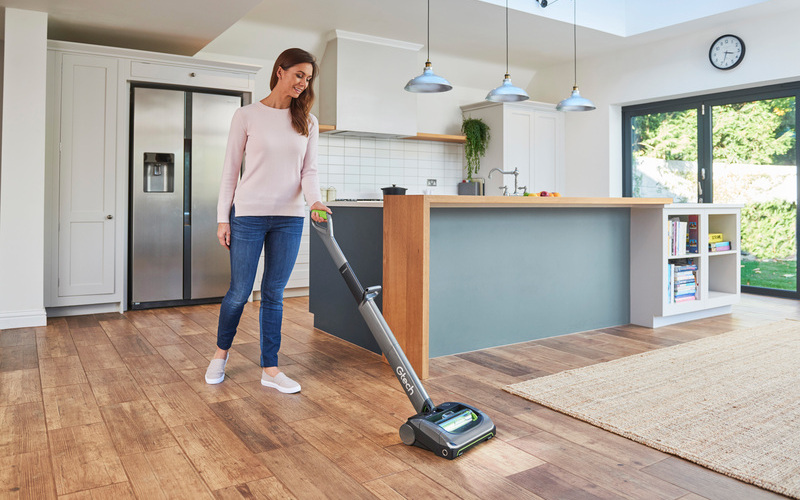 Now that school days are back in full swing, double check everything is clean and ready for those hectic mornings. Stock up on kitchen foil and sandwich bags and make sure all the lunchboxes have been through the dishwasher. Go on a stationery run and make sure each fluffy pencil case is sufficiently full of pens, rubbers and sharpeners. Make sure you've got a full fruit bowl and plenty of snacks ready for little hands! It's worth buying hand sanitiser and antibacterial wipes to deal with all the post-holiday colds that will be circulating around the playground.
Thank goodness they're back in their uniforms…
Finally, the kids are back in their school uniforms and you no longer need to relentlessly wash shorts, leggings and sun-cream-stained vests! It's time to tackle that huge stack of laundry and ironing once and for all, before everything starts getting out of hand again. Make sure you've got plenty of washing powder and softener and brace yourself for a whole lot of washing.
Autumn garden cleaning – sort out your great outdoors
Over summer, it's not just the house that gets turned upside down by excited, sometimes bored, kids. Clear up any toys and clothes that have been left outside. You might find blankets and soft toys in outdoor dens, so it's best to bring it all in and check if it needs washing. Double check everything is dry before you store it away to avoid that nasty damp smell! You can give any waterproof toys a quick hose-down to quickly get rid of dirt or dust. Leave them to dry in the sun and store them away for the colder months. If you're not sure how best to look after your garden over autumn, check out our blog and work through our handy hints. Now is a great time to start pruning your hedges giving the lawn the final mow of the season.