Your car is full of hidden nooks, corners and crevices – all of which can act as an unwelcome refuge for rubbish or a stronghold for dirt to build-up in. Reaching them has always required lots of awkward stretching and uncomfortable bending – until now.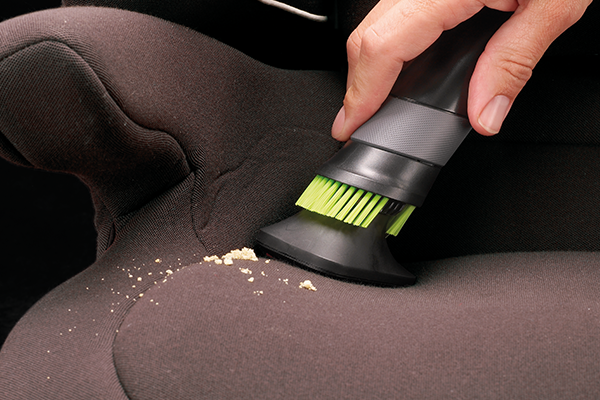 Transform your high performance handheld car vacuum cleaner with our Car Accessory Kit.
The car vacuum kit includes three additional attachments – a soft dusting brush, the flexible crevice tool and the small upholstery tool. Each one simply slots on to the end of your Gtech Multi. Designed to tackle build-ups of dust on dashboards, LED screens and digital instrument panels, the dusting brush features long, gentle bristles. You can use it to remove layers of dust without having to worry about scratching those delicate surfaces.
Delving deep into door pockets and between the seats is made considerably easier with the flexible crevice tool. Where traditional vacuum tubes struggle to touch the bottom of the pocket or reach underneath the seats, the flexible crevice tool thrives. Slim and flexible, it bends round obstacles to pick up dust, dirt and debris – giving you greater cleaning coverage.
The upholstery on your car experiences a significant amount of wear and tear on a daily basis. The small upholstery tool ensures you can give it the TLC it needs. Whether cleaning crumbs from the seats or dirt trodden deep into the mats – with our upholstery tool you can channel the Multi's high performance towards leaving your car looking spotless.
Once you've finished vacuuming your car, you can store away your Car Accessory Kit in the purpose made padded case. It's large enough to store away all of the Multi's standard accessories too – so you don't have to worry about losing anything!
Vist our Car Accessory Kit product page to find out more.