Now that the weather's finally picking up, it's time to get your garden ready for the sunshine! We've got some great tips for April gardening, from weeding to mowing and planting. Whether you've got a small gem of a garden or a huge lawn, these gardening hacks will get your outdoor space looking perfect…
Damage control
We've been lucky enough to have quite a mild winter, so most April gardens should be in pretty decent condition. The first thing to focus on is all those areas that have been a bit neglected while it's been colder. Gardening tends to drop off when it gets chilly and dark, as most of us want to be cosied up inside, not outdoors with a spade after work!
Get your April garden back on track, starting with any flower beds or planters around your garden. Weed out any unwanted bits that have been growing since you were last out there. For bigger flower beds, you'll want to grab a spade and dig down to the roots of the weeds – don't just pull out the top leafy bits you can see, as the plant will still be growing beneath the soil and will just keep growing back.
Pruning is easier than it sounds – cut back trees and bushes that have grown unruly over the cooler months. Secateurs are great for small plants or vegetable plants that need a gentle trim. For your hedges, you'll want something a bit bigger! Gtech's cordless garden range has some great options, with our cordless Hedge Trimmer making gardening easier, quicker and more enjoyable.
Make room for new growth
April plants and flowers need looking after, too. Spring plants like daffodils and hydrangeas are popping up already, so make sure you look after them and keep that beautiful burst of colour in your garden. De-head any dead bits – it'll keep them looking pretty and will also encourage more growth. You'll soon start to see newer buds blossoming with these types of plants, and with any winter pansies that have pushed through the soil.
Liberate your lawn
It's finally time to get your lawn back in shape. Over winter, it can get pretty patchy and mowing can sometimes do more harm than good. Now that we're getting some decent sunshine, your lawn will be back to growing at its normal rate.
Ease yourself back into mowing by starting off with a slightly higher cutting height than you'd go for mid-summer. This is because the grass might be uneven and you don't want to risk going for a low cutting height and accidentally scalping it! Our brand new Cordless Lawnmower is made for the wild. It has 6 adjustable cutting heights from 30mm to 80mm, along with a 420mm cutting width, so you can enjoy versatile mowing throughout the sunny seasons. It also comes with a 50L grass bin, giving you plenty of room to play with! With no petrol to buy, store and clean up, it's a low maintenance gardening solution. There are also no cords to untangle or accidentally mow through – get the job done quickly and easily so that you can sit back and enjoy your great outdoors sooner…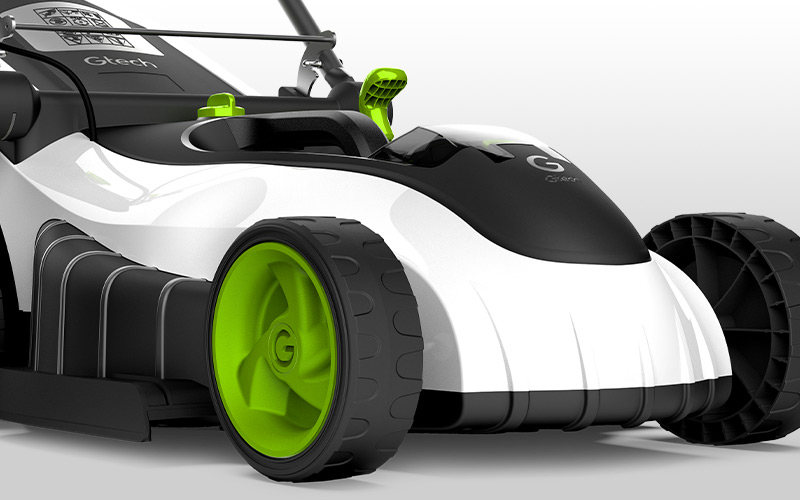 To give your lawn a fantastic finish, we'd suggest using the cordless Grass Trimmer made for those finishing touches. Its performance blades let you trim the edges of your lawn so that it's beautifully neat. Unless you're ridiculously lucky, there'll be a few bare, straggly bits of grass in your lawn. Use lawn feeder to repair these areas and they'll be luscious and green in no time, ready for all those summer BBQs.
Make your bed
It can be hard to resist the urge to replant all of your flower beds now that you're actually spending time back in your garden. While we love getting new life started in our flower beds, it's important to choose the right plants! Go for hardy annuals (veggies are great, too!) and you'll get to enjoy them for years to come.
Head to your local gardening centre and check out what's on offer. Most plants come with care instructions, so you'll be able to quickly work out what extra soil or fertilisers you might need to buy, along with when you can expect to see flowers coming to life and carrots being ready to dig from the ground. Building a vegetable garden at this time of year can be fun, as there's so much on offer! Choose veggies like leeks, cauliflowers and lettuce and your garden can quickly become an extension of your kitchen.
Bring the outdoors inside
Indoor plants are one of the best things you can add to your home, in our humble opinion. While it's been miserable and rainy outside, we've been enjoying adding splashes of green to our living rooms, along with indoor hyacinths that brighten up bedrooms.
Now that we're getting a bit more sunshine, our homes are much warmer in the daylight hours. That means your houseplants will be needing a bit more TLC, so make sure you're giving them more water to counteract all the extra heat they're getting in the days. Check the care instructions or have a quick look online to ensure you're only watering the ones that need it! Don't drown your plants either – it can be so easy to go overboard and think you're doing them a favour by chucking in pints of water. Take it steady, check the leaves, buds and soil regularly and your indoor jungle will continue looking beautiful…
Check out or full range of cordless garden tools today!