Car cleaning is about much more than soapy sponges and jet washers. Many of us visit a drive through car wash regularly, but how often do we actually clean inside our cars? We'll be offering up our favourite solutions for cleaning those awkward spaces of your car…
The Car Accessory Kit is a combination of 3 fantastic cleaning tools that work alongside your Gtech vacuum to offer even more versatility and easily attaches to your vacuum.
Lay the groundwork
It goes without saying, but clear your car of all the rubbish in there before you make a start on deep cleaning! We're all guilty of having a half empty bottle of water rolling around under our seats, along with the odd food wrapper and spare pair of shoes. Getting rid of all the junk will make the actual cleaning part so much easier, so grab a bin bag, recycle what you can and start from fresh.
Air vents
We've all experienced that horrible smell of burning dust when we first crank up the heating or, even worse, had a mini dust cloud explosion when whacking up the AC in our cars on the first warm day in months. The air vents are a prime space for dust to settle and many of us forget about cleaning them regularly, if at all.
The soft dusting brush that comes in the Car Accessory Kit is ideal for these kinds of parts of your car. The bristles are soft, so they won't scratch the car interior, and they're long in order to reach dirt and dust from tricky areas. This tool is connected to your vacuum, so the dust will be removed and lifted straight into the bag or bin – you don't need to worry about it flicking out or falling onto the seats or floor of your car.
Door pockets and gloveboxes
Our Car Accessory Kit includes a flexible crevice tool – this is a long, bendy accessory that is designed to reach into awkward spaces. Because of its flexibility, it can bend into door pockets and gloveboxes with ease – it folds into spaces while being powered by the vacuum's airflow. Because of its slim design, it can reach to the bottom of these kinds of spaces, meaning you can really lift out crumbs and dust. Some traditional vacuums and their attachments can't reach to the bottom of these areas as they're too rigid, so you'll probably be surprised at how much deeper you can reach with this bendy tool – and how much more dirt you can remove!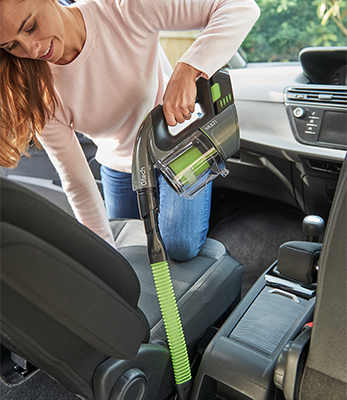 Dashboard
Dashboards can be tricky to clean, so we'll forgive you if yours is looking a bit dusty! A lot of traditional vacuums are too bulky to fit inside your car, but our cordless vacuum range is packed with lightweight, portable vacuums. Take the Gtech Multi, for example – it's a handheld, so it's perfect for carrying around your home as you vacuum, and, thanks to its lack of cords, can be taken outside easily for car cleaning. It's also great for tidying up your shed, and even your tent, but that's a story for another time…
When it comes to cleaning your dashboard, you want something gentle that won't scuff or damage anything. Use the soft dusting brush to clean any LED screens without worrying about scratching them. You can also clean the instrument panels, getting rid of any dust and debris as the vacuum lifts it away.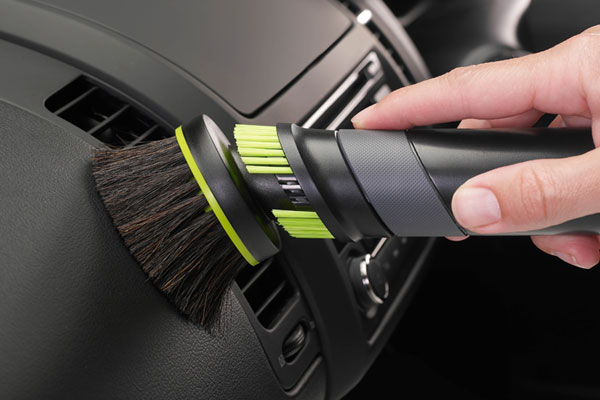 Car seats, footwells and the boot
The Gtech Car Accessory Kit comes with an upholstery tool for, you've guessed it, upholstery. You can vacuum across the car seats, picking up larger objects (random bits of gravel, leaves and clumps of pet hair!) as well as fine dust, scattered crumbs and dirt. The brush works alongside your vacuum's airflow to provide performance cleaning. You can use this attachment in your footwells as well – take them out, shake them off if you want to or just get stuck straight in. All of our vacuums are designed to offer cleaning performance, so you can tackle these kinds of jobs quickly and easily. The upholstery tool can also be used in your home across sofa cushions if you're really in the mood for a clean.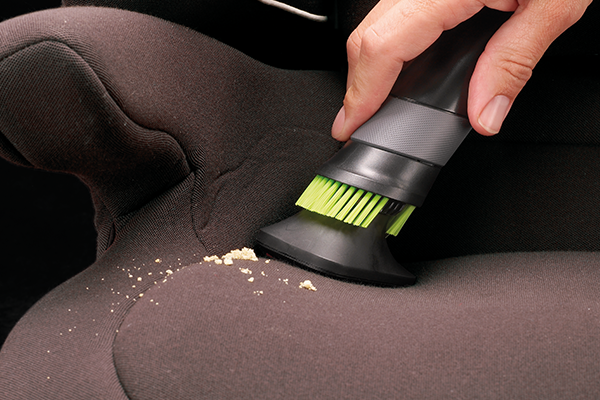 Between car seats
Now that you've sorted the upholstery, it's time to see if you're brave enough to discover what lurks between the car seats. If you've got kids, you'll be familiar with the sticky, leftover crisps that somehow find their way into the smallest possible cracks. The grooves of car seats are also normally sprinkled with crumbs and all sorts of grubby mess. Our flexible crevice tool has been specially designed for these kinds of challenges. Reach deep in between seats and into awkward areas with this tool to really clean your car. Again, you can use the crevice tool in your home to clean between sofa seats, as well as into tricky spaces behind furniture and appliances.
So, there we have it – our top tips for car cleaning. Our Car Accessory Kit makes interior cleaning easier and you can enjoy cleaning satisfaction across a variety of surfaces inside your car. If all else fails, stick a Magic Tree in there and hope for the best…