Already own a HyLite or HyLite 2? Use this ProLite (body only) unit with your HyLite battery and charger to create the perfect, lightweight cleaning system.
Grab and go with our lightest ever handheld vacuum cleaner, the Gtech ProLite. Weighing just 1kg*, the ProLite is perfect for use on stairs, upholstery, and in the smallest of spaces, providing quick and easy cleaning whenever you need it. It's the perfect companion to your HyLite or HyLite 2.
Handheld Vacuum
Lightweight at 1kg*
Low Maintenance, Hygienic Cleaning
LED Headlight
Crevice & Dusting Brush Attachments
Don't own a HyLite or Hylite 2? Select the ProLite which includes a battery & charger
Free Next Day Delivery
2 Yr Warranty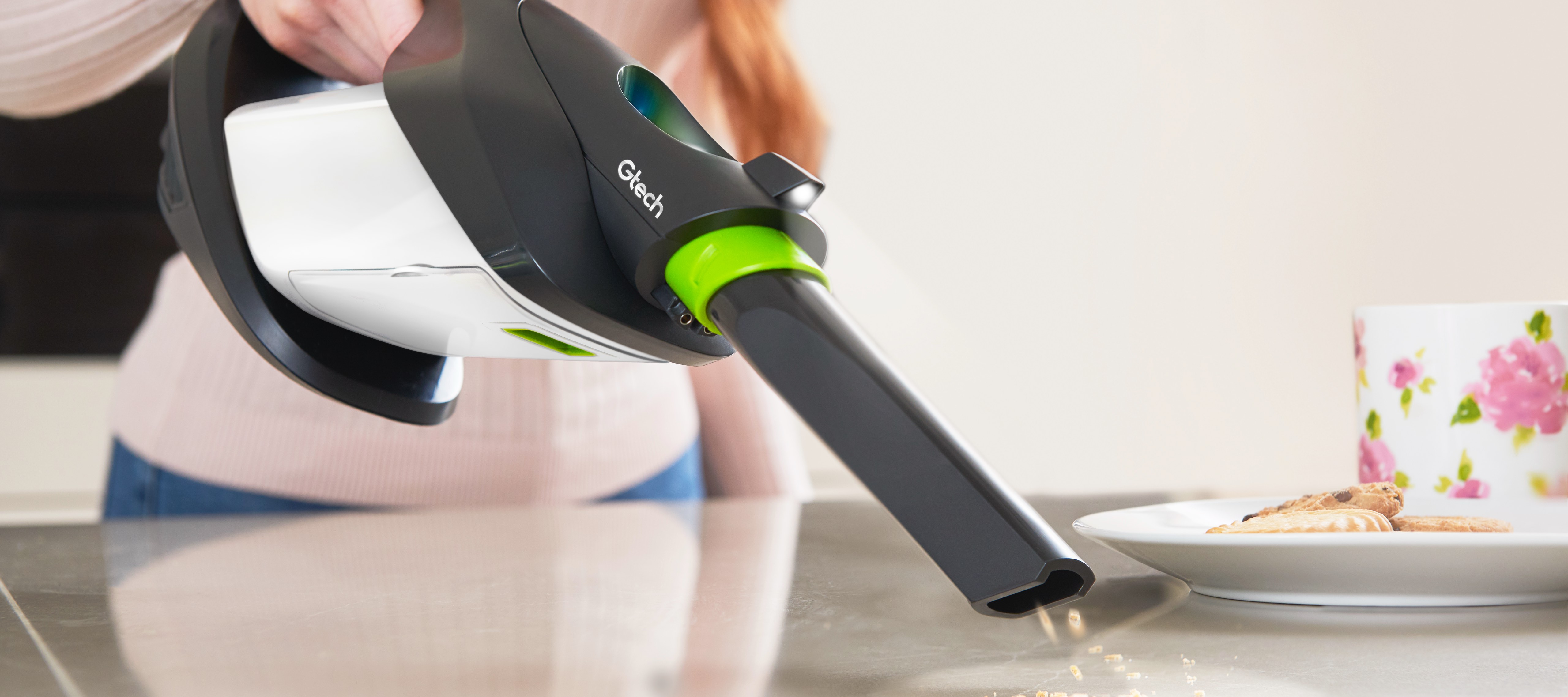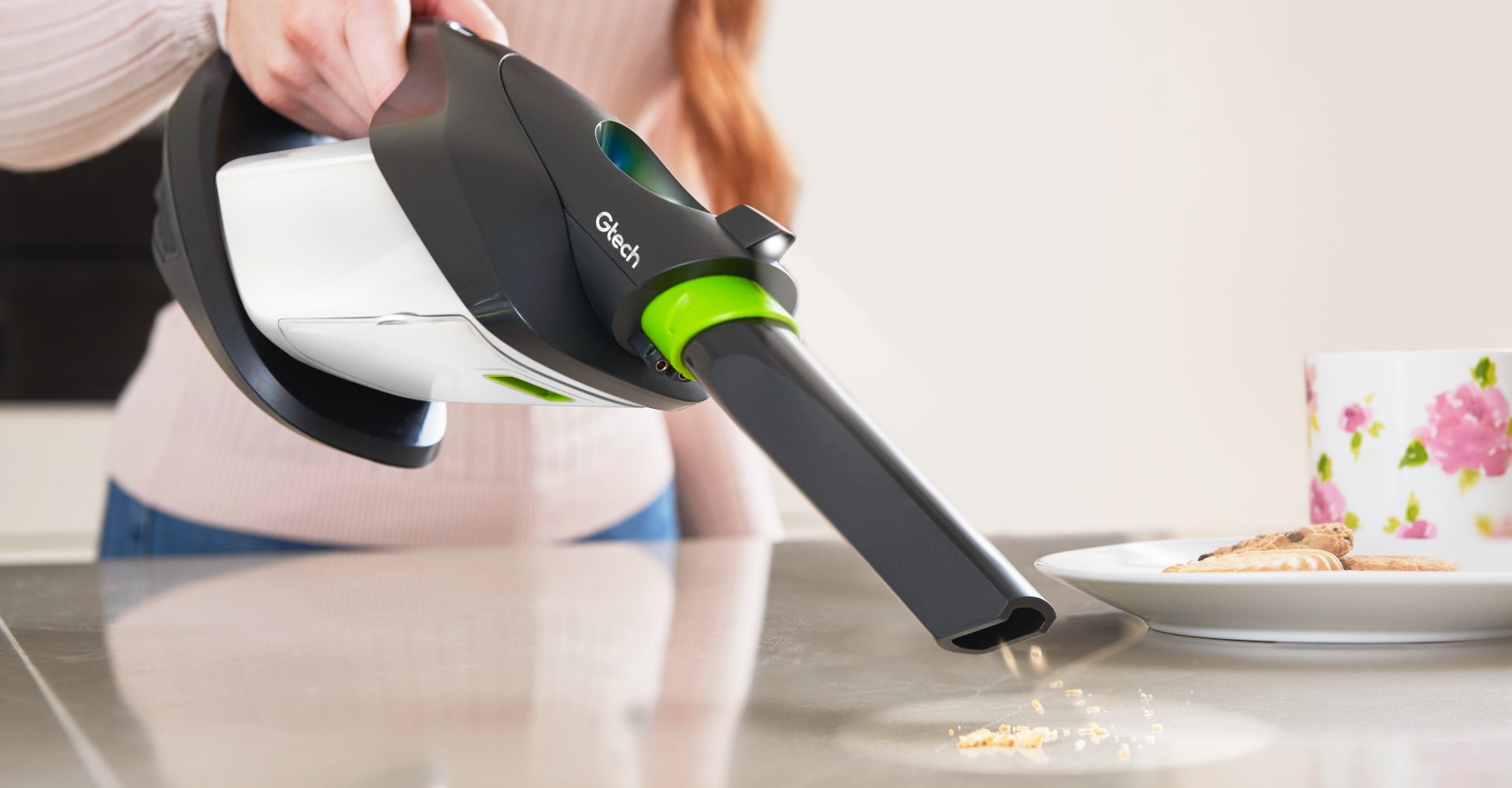 Grab and Go
Ideal for quick clean-ups, our lightweight handheld vacuum is simple to use and always ready for action. It's perfect for busy homes, and with two settings to choose from, you can personalise how you use our ProLite. Choose between Eco and Max mode and you're good to go!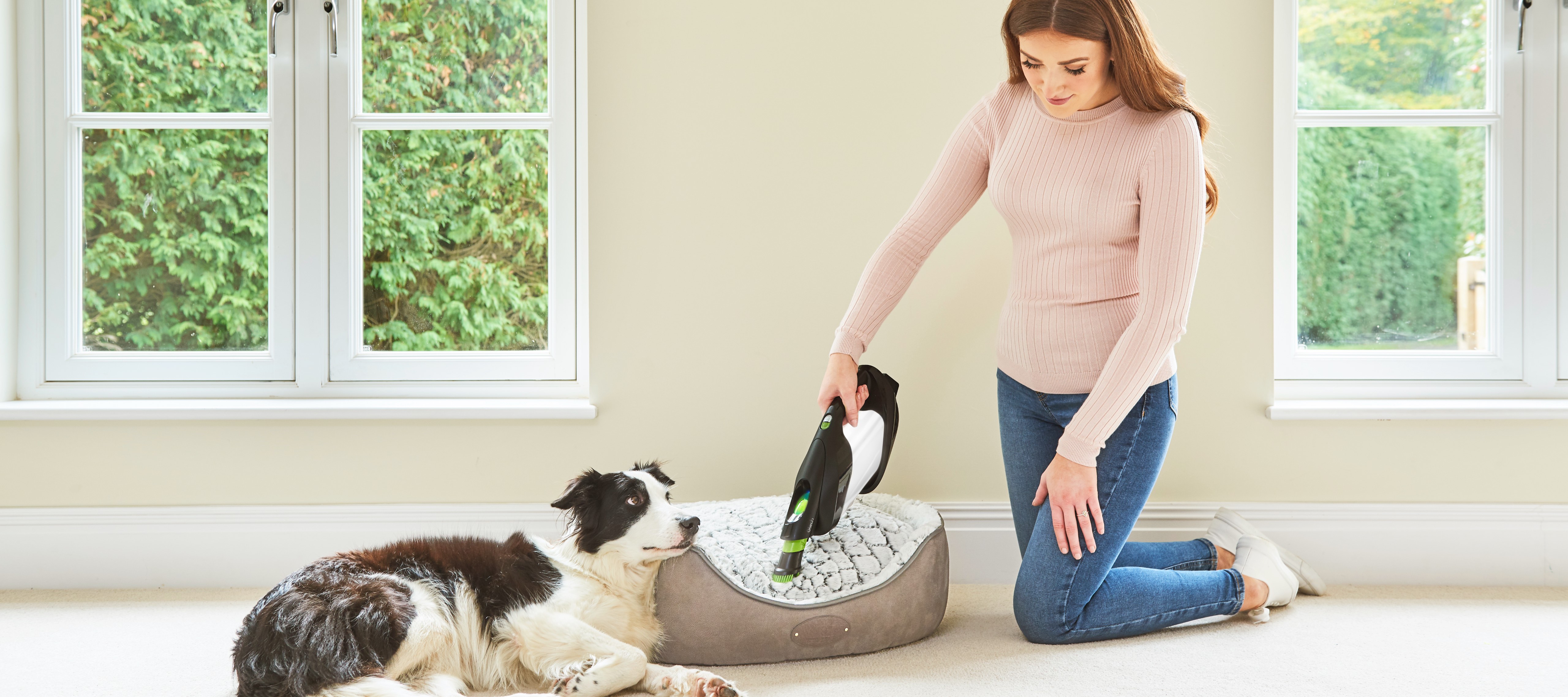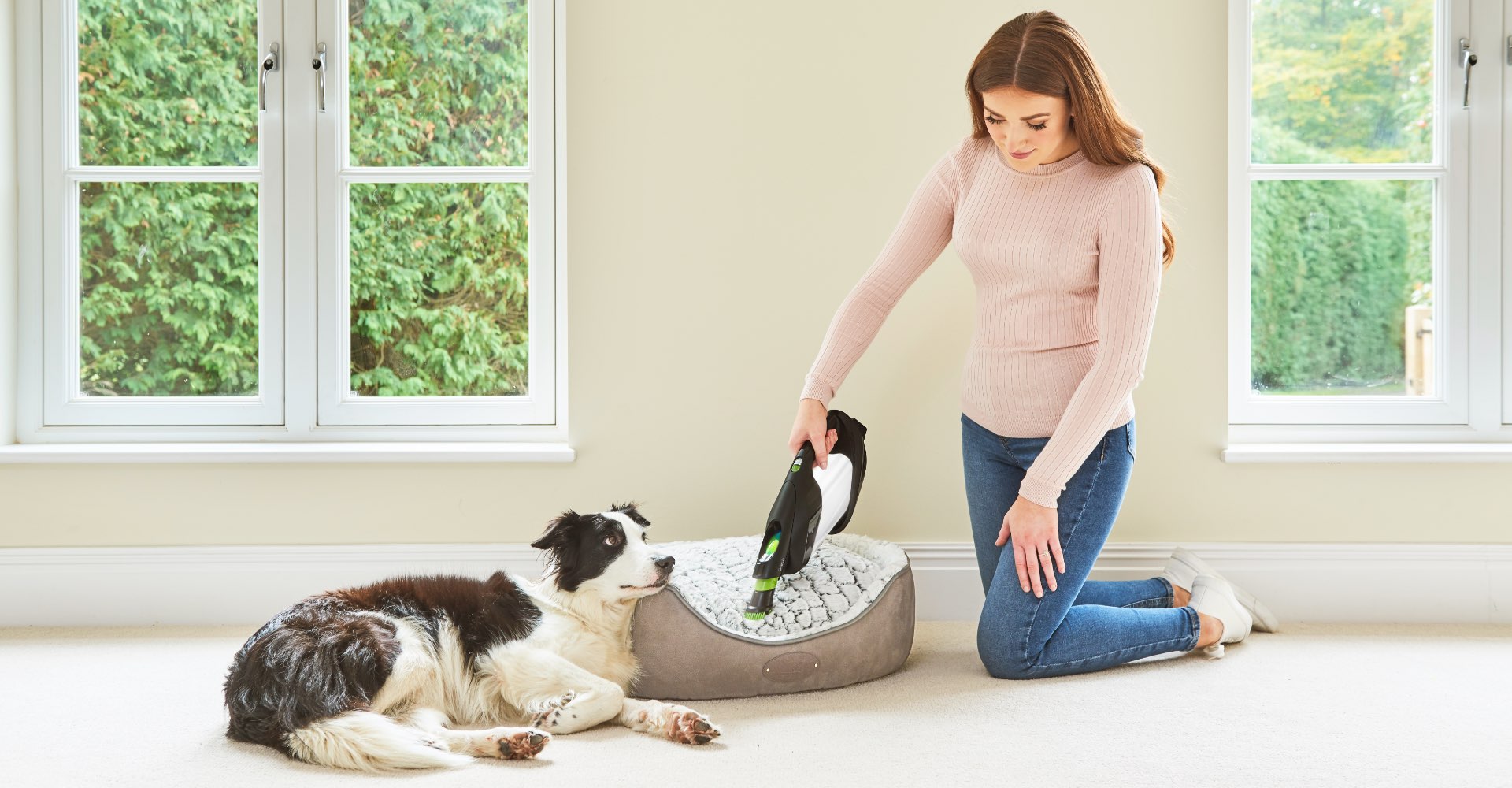 Lightweight and Cordless
Lifting and carrying the ProLite is virtually effortless. As well as weighing as little as 1kg*, being cordless means you can move from room to room, and up and down stairs, with no need to change plug sockets. Plus, it fully recharges in just two hours - cleaning has never been easier!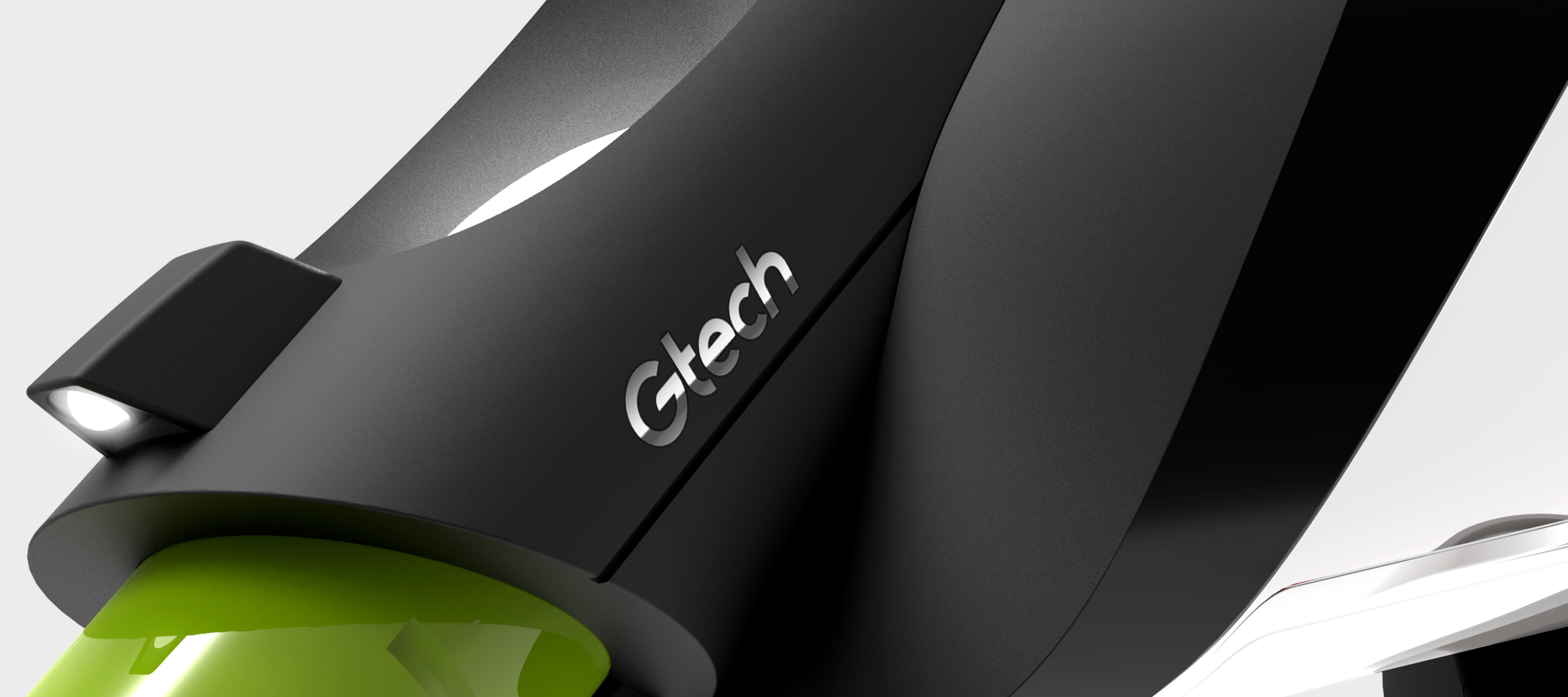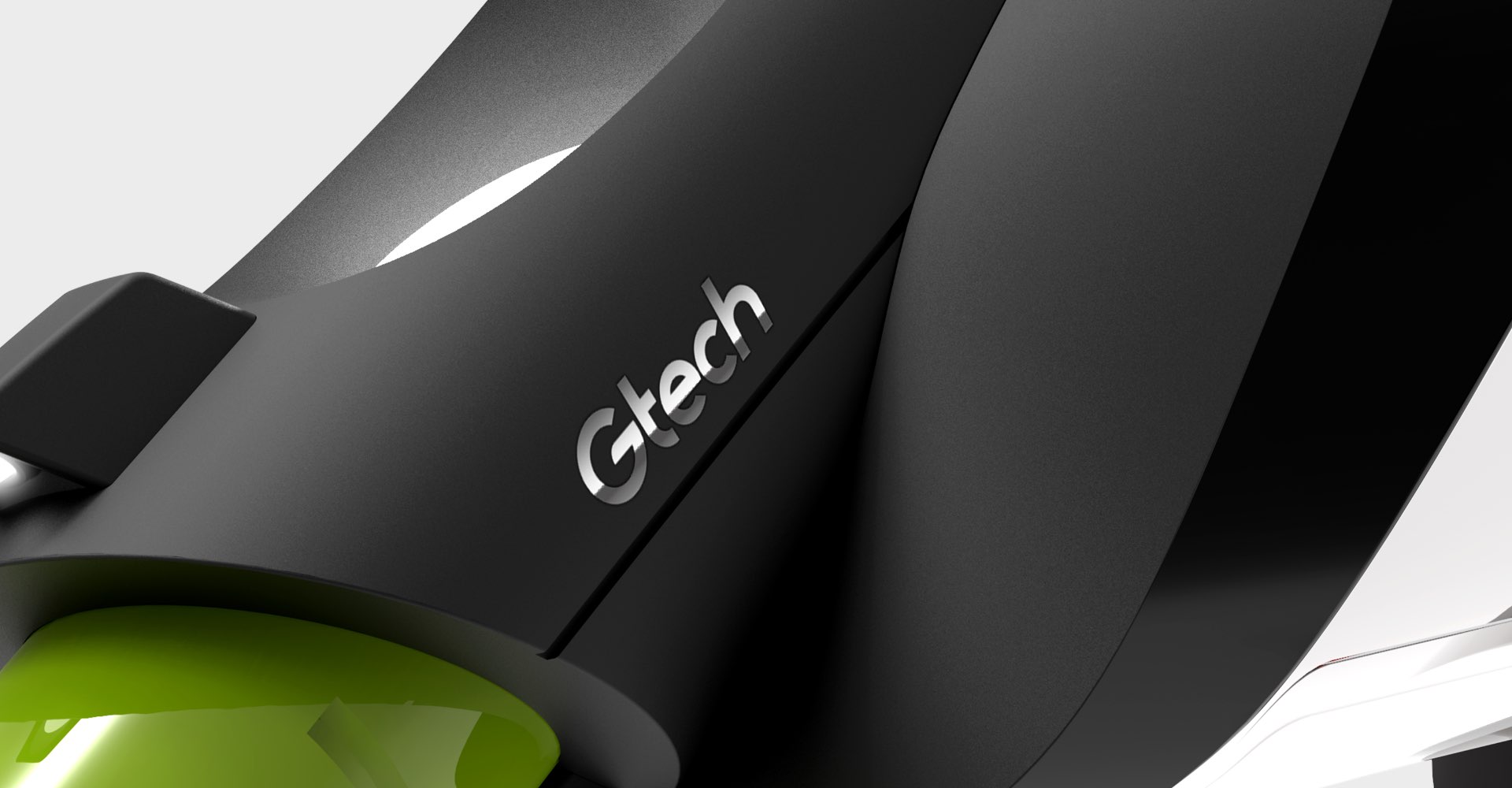 Versatile Attachments
It may be small, but together with its range of attachments the ProLite tackles big tasks. While the dusting brush is great for upholstery and car interior cleaning, the crevice tool lifts stubborn dirt from tricky spots. Need more? The Gtech ProLite Accessory Kit (available as an optional extra for just £50) includes a flexible powered hose and small power brush head, plus a wall mount for easy storage±.
Eliminate the dust cloud…
Fused together at the top and sides, our hygienic vacuum bags are robust. They can retain dirt without tearing during disposal, so you can avoid the dust cloud when emptying, and keep your home dust-free.
Enhanced cleaning capacity…
To ensure you get the most use out of each bag, the airflow continuously pushes dirt down into the bags as you vacuum. Plus, the pleats in the bags increase their dust capacity, meaning you can go longer without having to change them. You get the same cleaning performance as a bagless vacuum, but with extra efficiency due to not having a cyclone bin (which uses additional power).
Triple-layered filter bag…
The ProLite's bags are made up of three breathable layers which filter different grades of dust and debris. This helps the ProLite's airflow to compress dirt more efficiently, giving you maximum capacity and durability. Each bag essentially acts as a filter, trapping dirt and dust, meaning you're getting a fresh clean every time you use a new bag - it's convenient and hygienic cleaning in one.
How big is a dust bag?
Don't be fooled by the ProLite's size. Its triple-layered bags are cleverly designed to hold more than you might think, with their capacity expanding up to 0.5L. Each ProLite comes with three dust bags, and a pack of 15 replacement bags costs just £12.99.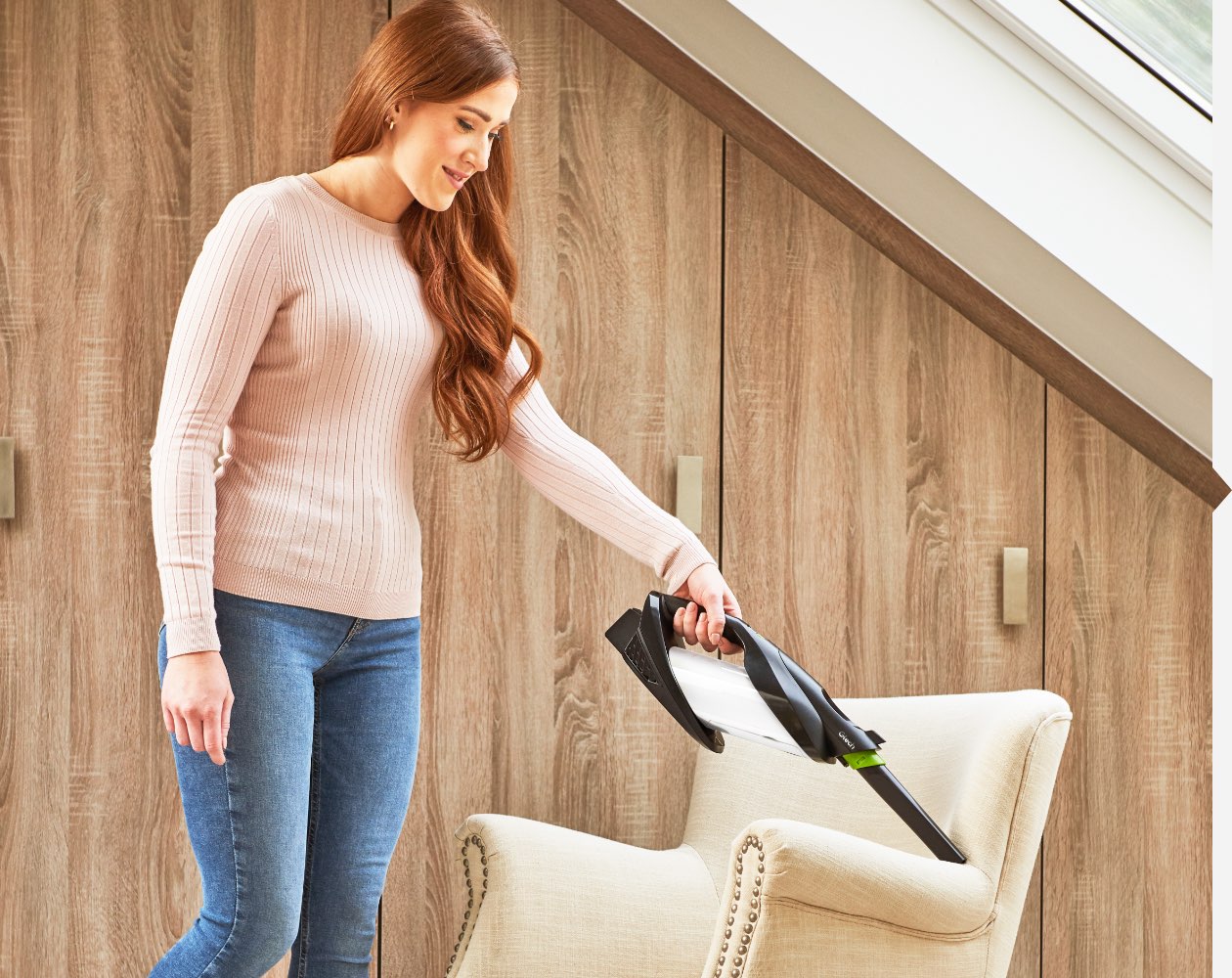 Long runtime
The ProLite uses a 14.4V lithium-ion rechargeable battery, which has an LED indicator letting you know when the charge is running low. With two power modes to choose from, you're in control of how you clean. Choose Eco for up to 30 minutes' runtime**, or Max mode for up to 20 minutes with extra power.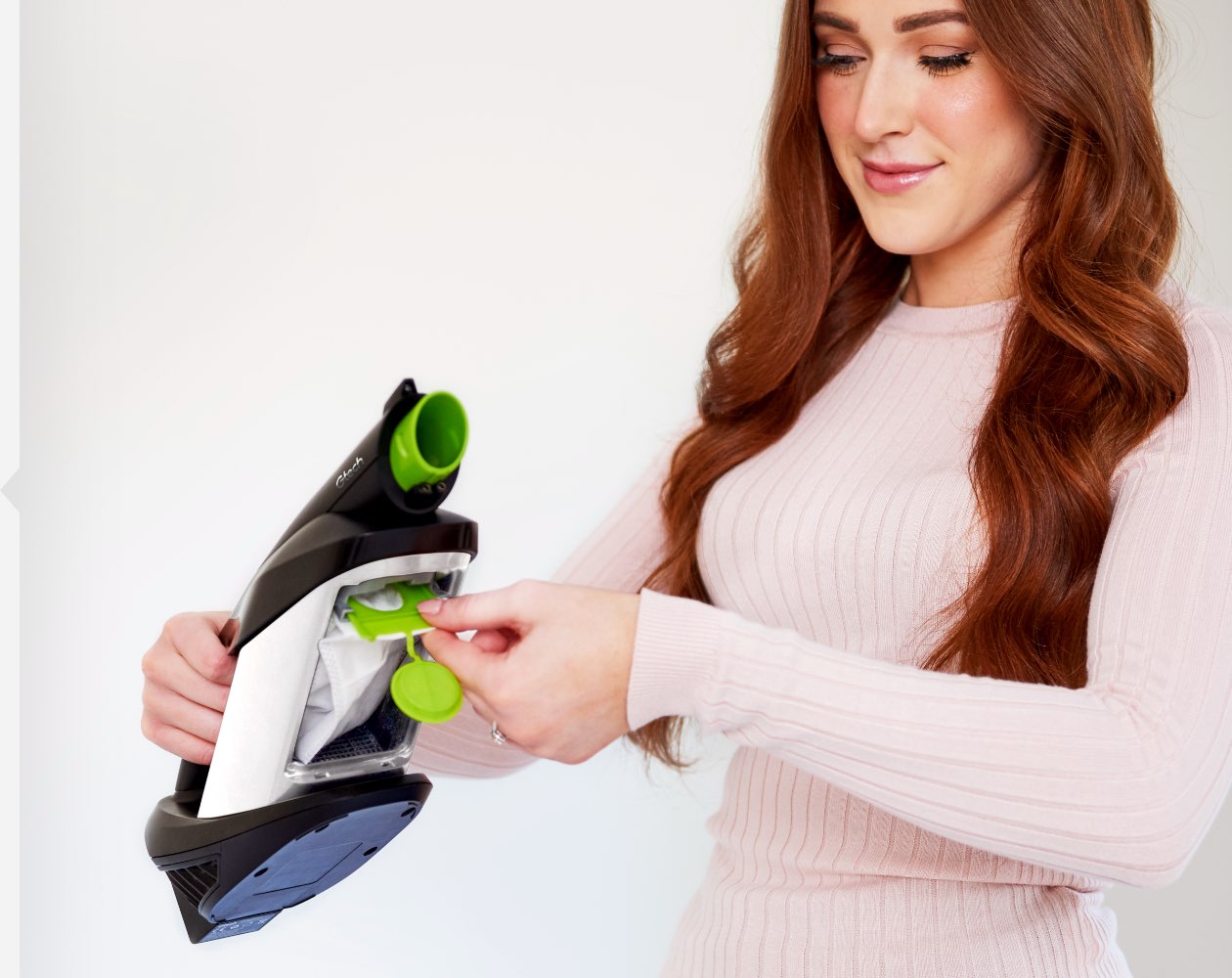 Easy to use
Our compact handheld vacuum is built for busy, modern lifestyles. There are no filters or bins to change, but instead a low maintenance dust bag, which you just need to remove and replace when full. Simple as that.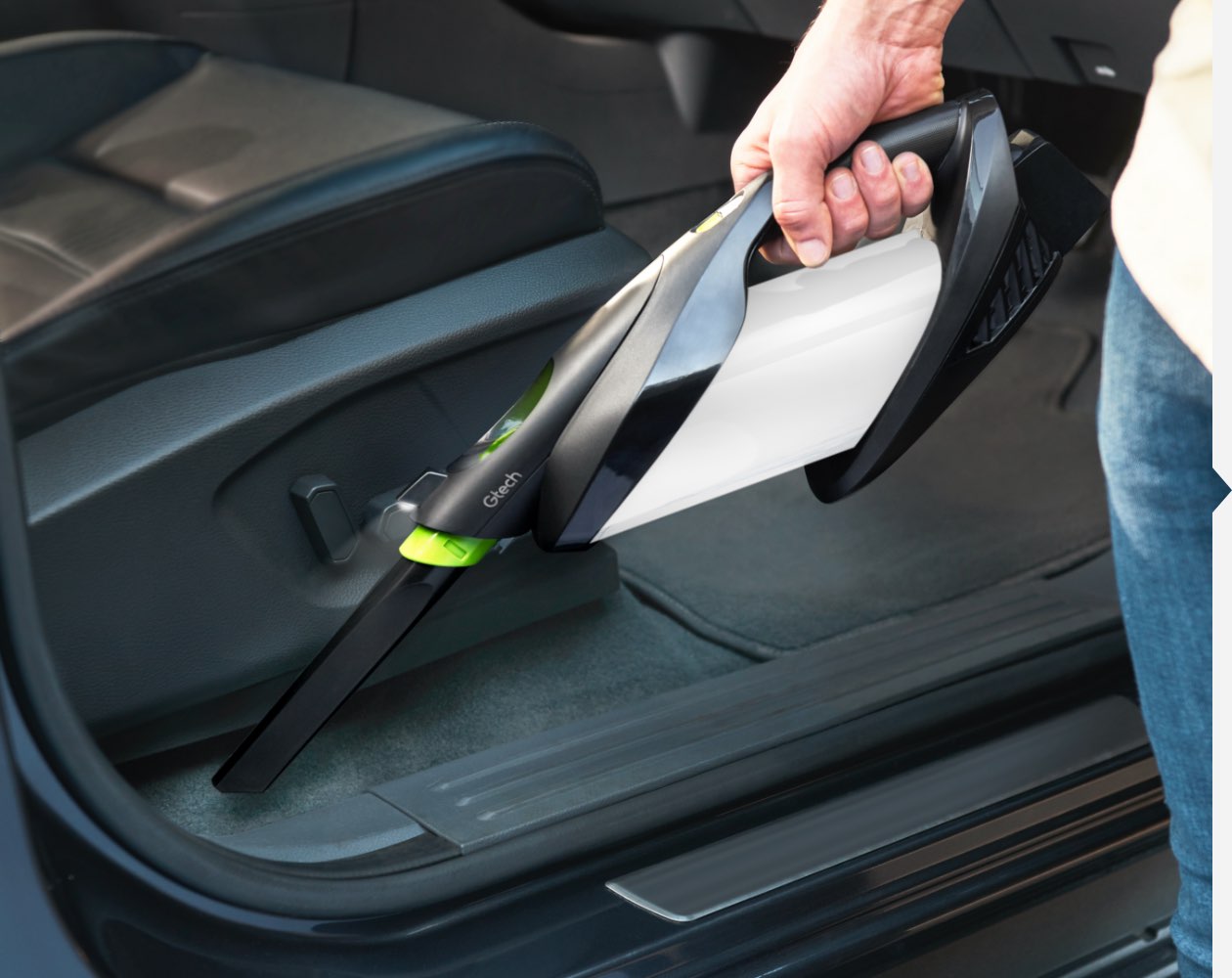 Work in tight spaces
With its slim design, the ProLite is ideal for tackling those tight spaces like within cars and caravans. The crevice tool lets you get in between seat cushions, while the dusting brush is great for dashboards. Remove unwanted dirt with ease±.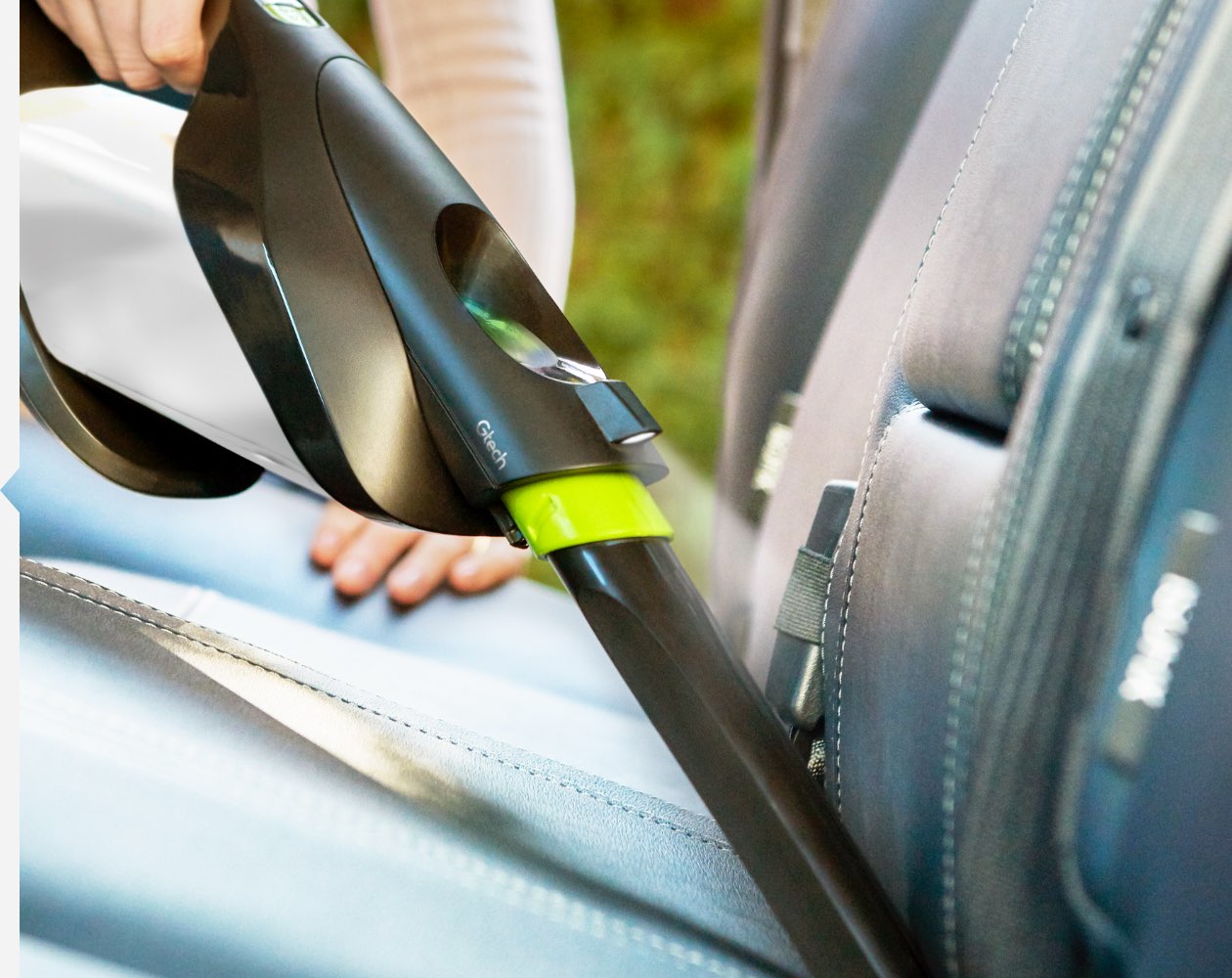 LED headlight
Illuminate the area ahead as you clean with the ProLite's centrally positioned LED headlight. Shine into dark spaces, behind cabinets, and under car seats - dirt and dust have nowhere to hide.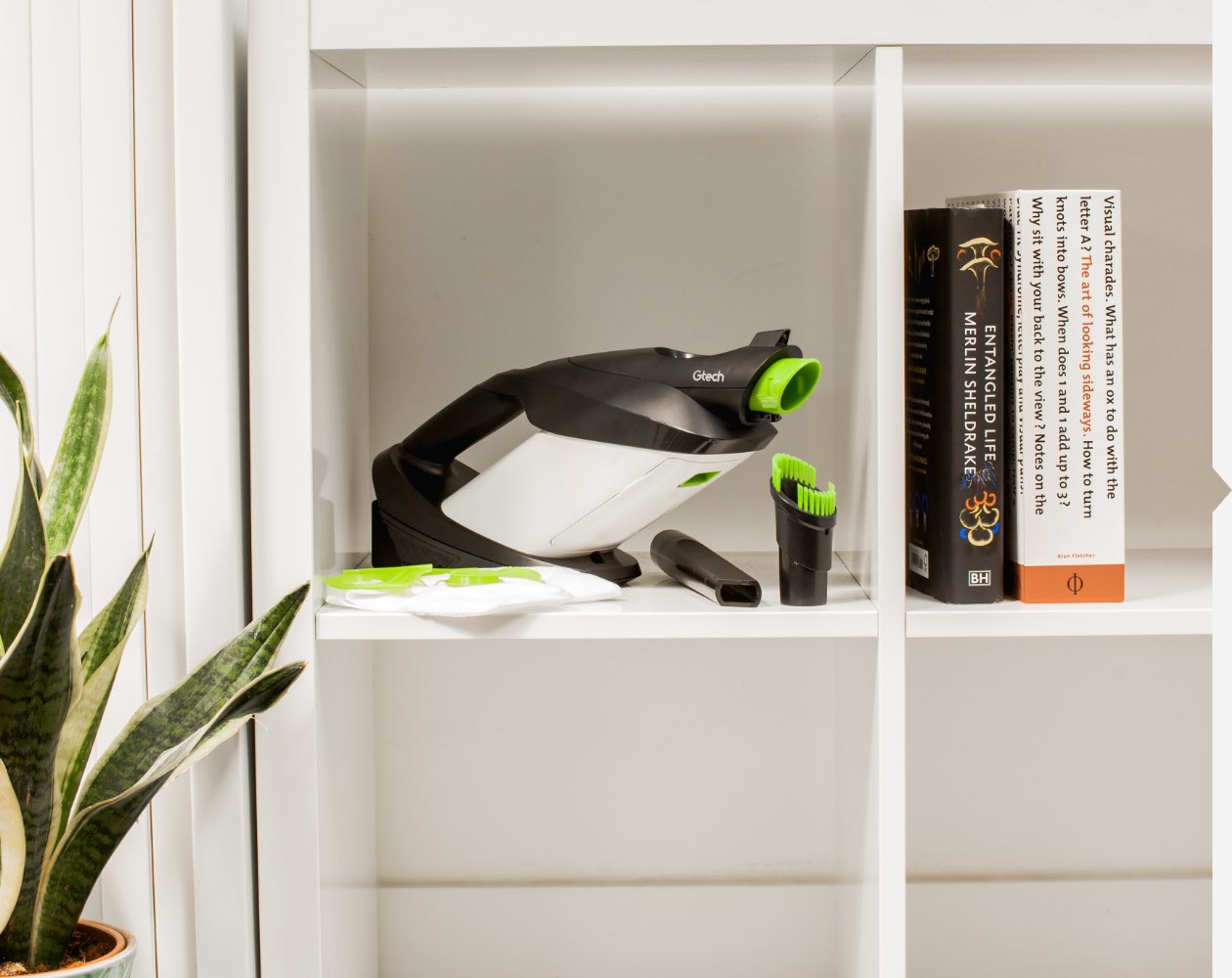 Compact storage
No space? No problem. The ProLite's slim body is only 10cm (4") wide by 36cm (14") in length, and weighs just 1kg*, making it one of the lightest and most compact vacuums available. It takes up very little space, wherever you decide to store it.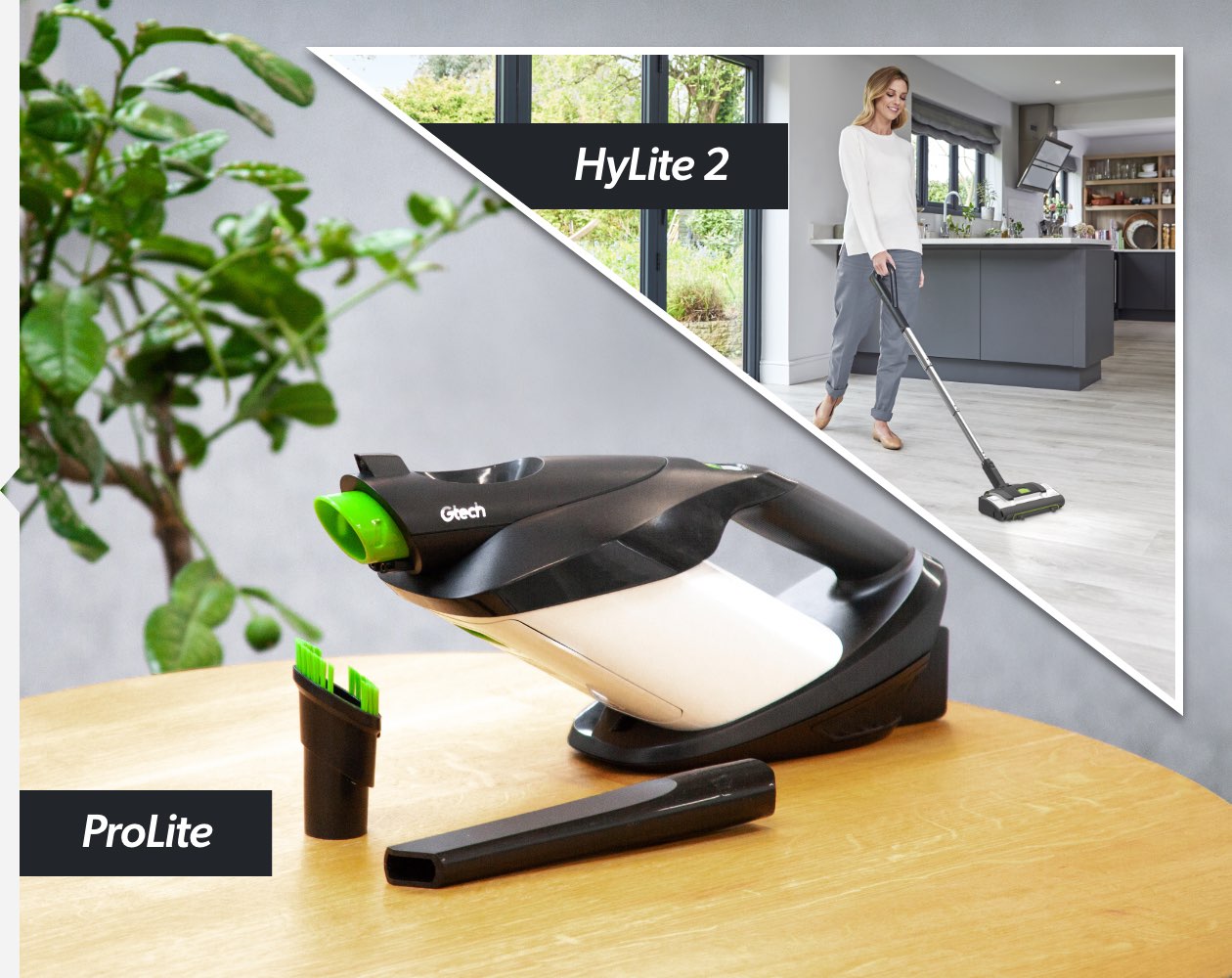 Lightweight cleaning duo
Use this ProLite body with your HyLite battery and charger to create the perfect, lightweight cleaning system. Swap the battery between both vacuums as you need, using the HyLite for floor cleaning and ProLite for everything else.
Upgrade your accessories
Take your cleaning to the next level with the ProLite Accessory Kit (available to purchase as an optional extra for only £50). This useful kit includes a power brush head, for enhanced stairs and upholstery cleaning, as well as a flexible powered hose for reaching into awkward corners. Plus, with the wall mount, you can store your vacuum off the ground and out of the way.
*Weight is 1kg when working with dusting brush or crevice tool.
**Runtimes quoted may vary depending on surfaces cleaned and accessories used.
± Care is needed when using along skirting boards and delicate surfaces to avoid scuffing.
All products ordered from www.gtech.co.uk (or by telephone from Gtech) are covered by a 30-day money back guarantee. If you change your mind we ask that you return the product to us in its original condition with your proof of purchase within 30 days. We will happily either exchange it or give you a full refund. Please note that we are happy to arrange the return carriage but we do ask that you cover the cost which incurs a charge of £10. Our 30-day money back guarantee does not affect your statutory rights.
Includes 2-year manufacturer's warranty.