Does your vacuum cleaner get you into a tangle? Are you constantly tripping over cords and searching for plug sockets? If so, it may be time to 'break free' with a cordless vacuum cleaner. Lightweight, efficient and ergonomic, cordless vacuums offer a straightforward cleaning experience that makes spring cleaning easy.
So, what are you waiting for? For more on how cordless vacuums can improve your cleaning routine, read on.
1. Easy to move around
Wave goodbye to short cables and cylinders that get in the way: your cordless cleaner is here to save the day. Everything you need for a speedy cleaning job is contained in a cordless vacuum, so you no longer need to carry multiple components around the house. All it takes to get it going is a quick charge of the battery. That's right – no more plug socket problems!
2. Low maintenance
Sometimes the simplest things are the most satisfying, and that's certainly true with a cordless vacuum cleaner. Where corded types come with fiddly – and often dirty – filters, cordless vacuums are much less hassle. Our bagless cordless vacuum range for instance, has filters which are easy to pull out, wash, and slot back into place. Cordless cleaners also offer easy dirt disposal; just slide the ejector arm and move the compressed dirt out with ease.
Best of all, there are no settings to change when you move from carpet to hardwood – just grab hold and go!
TOP TIP: Make things even more convenient with a bagged vacuum. These devices pack dirt into a sealed vacuum bag as you clean, so you won't need to worry about cleaning out dusty bins or getting trapped in dust clouds.
3. Super lightweight
Another bonus of cordless cleaners is that they don't use heavy AC motors. This is because lightweight Li-ion batteries power cordless devices, making them much lighter to carry around and reach tricky spots.
Our Gtech Pro 2, for instance, weighs only 2.4kg in upright mode and just 1.4kg in handheld mode.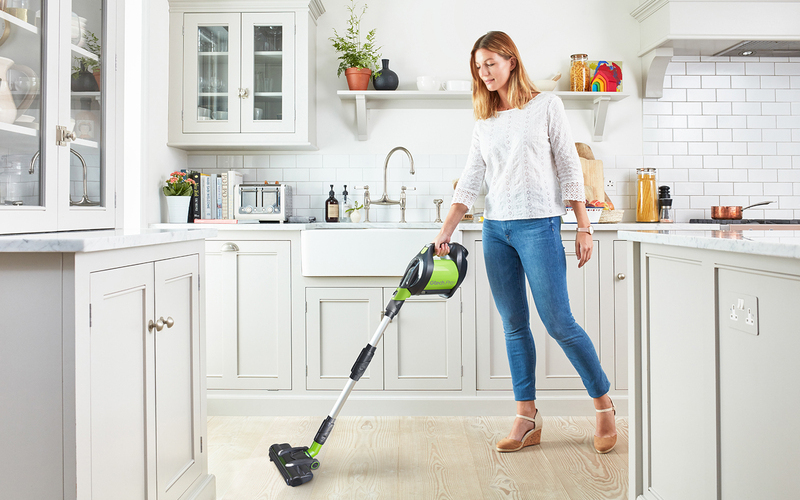 4. You can clean anywhere
When we say cordless vacuums can clean anywhere, we don't just mean every room - we literally mean anywhere. Combining lightweight design with ergonomic attachments (like our Car Accessory kit or AirRam Speed Clean Kit ) you can tackle hard-to-reach places without getting achy arms.
Cobwebs collected in the corner of the ceiling? No problem – just attach the extension tube on your Multi MK2. Trying to reach an awkward spot under the sofa? The low-profile handle on the AirRam MK2 allows you to manoeuvre into tight crevices while the full-width LED lights help to efficiently clean under furniture and in difficult-to-see areas
Of course, to get the best of both worlds, opt for a Gtech Pro 2, which offers the versatility of both handheld and floor cleaning.
5. High-performance cleaning
While they might not be able to match the airflow of their corded counterparts, our portable vacuums still deliver an efficient clean on all surfaces. For example, the AirRam MK2 uses our unique AirLOC technology, designed to pickup larger debris while you vacuum forwards and lift fine dirt, dust and embedded hair on the backstroke
What's more, a motorised brush bar makes the machine glide along floors like a dream. Smooth!
If you would like to experience the benefits of cordless vacuums for yourself, browse our cordless vacuum range today.