How to clean carpet on stairs in 5 easy steps
With your family traipsing through your house, up and down the stairs multiple times a day, it doesn't take long for your stairs to start to look dirty, tired and in need of freshening up. But knowing how to clean carpet on stairs isn't always easy – it can be an almost backbreaking task. With the right tools, cleaning your stairs doesn't have to be a challenge, and at the end you'll just want to stand back and admire your hard work.
How to clean carpet on stairs
You will need:
Vacuum cleaner
Brushes
Carpet shampoo
Towels
How do I choose the best stair vacuum?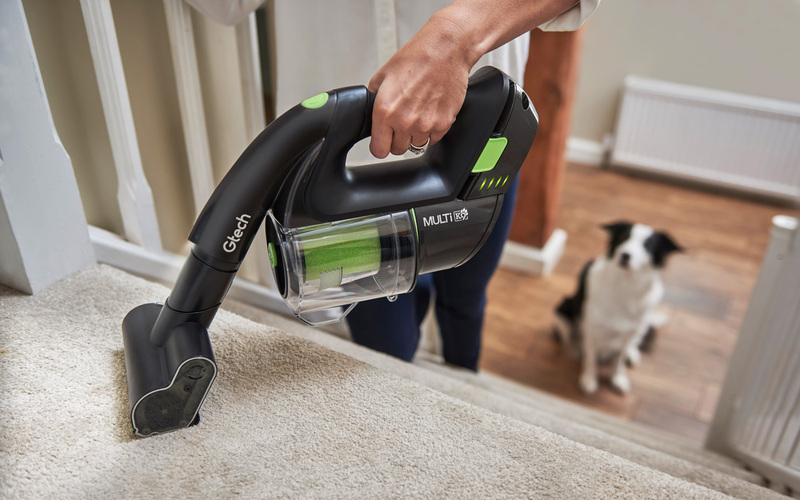 The best vacuum for stairs should be cordless. The last thing you want is to be trapped by the cord, unable to reach the top of the stairs. With cordless vacuums, that's a thing of the past. Reach every stair with ease thanks to cordless technology. We would also recommend you opt for a handheld vacuum cleaner. This way, you can get up close and personal with every step. You'll no longer need to balance a vacuum that's too big for your stairs. Simply move from step to step, collecting up all the dirt along the way.
How to clean carpet on stairs in 5 easy steps
Before you start, take this opportunity to give your handrails a thorough dust. Any excess dirt will then be vacuumed up with the rest of the carpet's dirt.
1. Sweep the carpet: take your brush and remove any stubborn dirt buried in the carpet. The stiffer the bristles, the better. Start sweeping at the top of the stairs and push the debris downwards.
2. Vacuum: as mentioned above, a cordless handheld vacuum is best for the stairs. Use the different attachments for best results. Start at the bottom of the stairs and work your way upwards, moving your vacuum pushing your vacuum horizontally and vertically.
3. Clean the carpet: apply your carpet shampoo to each stair, following the instructions on the bottle. Scrub the shampoo into the carpet with a small handheld brush.
4. Wait for them to dry: you can't go any further with cleaning the stairs until the carpet is dry. To speed up the process, pat the damp area with towels. It's important that you don't just wait for the carpet to dry, because there's a chance for bacteria and mould to grow in the carpet. Drying your carpet can be a long process. It's best to leave it overnight.
5. Vacuum (again): once the carpet is dry, give it another vacuum. this will help to freshen it up even more and remove any traces of the shampoo.
By following the 5 easy steps above, your stairs will look as good as new in no time. Your stairs have potentially the highest traffic levels in your house, so are likely to get dirtier than the rest of your carpet in a shorter space of time.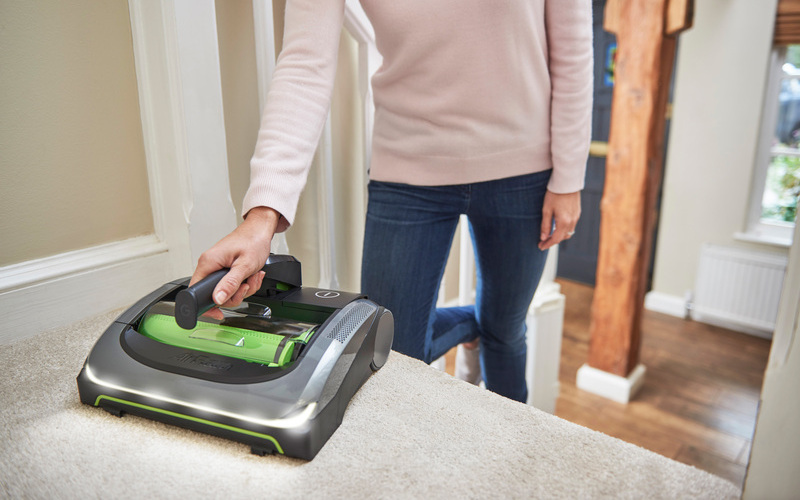 Vacuum cleaners for stairs
It's easy to let the dirt on your stairs build up. Giving them a deep clean as above is something you should be doing a couple of times per year, depending on how quickly your house gets dirty – pet owners should probably do it more regularly. Keep your stairs in good condition by vacuuming them on a regular basis – they should be part of your regular cleaning routine. The more you vacuum them, the less chance there is for the dirt to be compressed in the carpet's fibres – meaning it won't need to be shampooed as regularly.
At Gtech, we have selection of different handheld vacuum cleaners for stairs, perfect for using to keep your stairs clean. Discover our range to find the best vacuum for stairs.