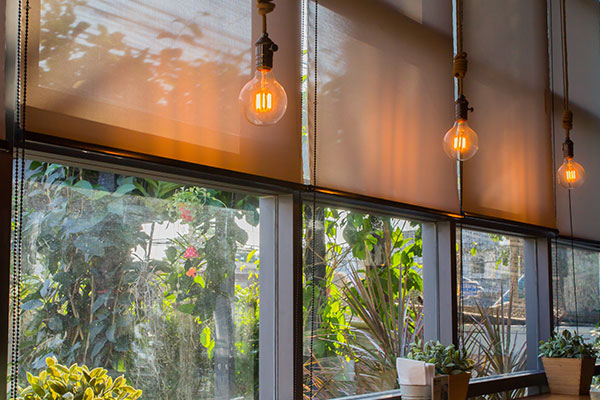 Have you ever tried to let a little extra light into the room, but ended up letting in more than you bargained for as dust fills the air? Don't just move them out of the way next time you give your windows a wipe, make sure your blinds are included in your cleaning routine, with our advice on how to clean blinds easily. So if your wondering how do you clean blinds, we can shed a little more light on how to clean window blinds of various size, style and material with recommendations on equipment and method.
What to Use to Clean Blinds - Equipment
The key benefits of blinds over curtains are that they are light weight and easy to adjust with the turn or pull of a chord. However, these same features can present many issues when it comes to keeping them clean. You can't take them down and add them to the washing machine like curtains, their surface area is much smaller, the materials can be delicate or prone to tarnish or bending, and whatever style of blinds, their multi-layered structure means you have limited space to get cleaning implements between each horizontal slat or vertical louvre. Sounds fiddly, doesn't it?
To make sure you can get into the tight spaces as you clean your blinds, make sure you have a practical handheld vacuum cleaner in your arsenal, such as the Gtech Multi MK2. Your blinds can easily be cleaned in situ, no matter where the window is that they're covering in your room as it's light and cordless. It comes complete with three attachments, including a power brush, dusting brush and crevice tool – ideal for slotting between the narrow gaps in your blinds and won't damage the delicate surface.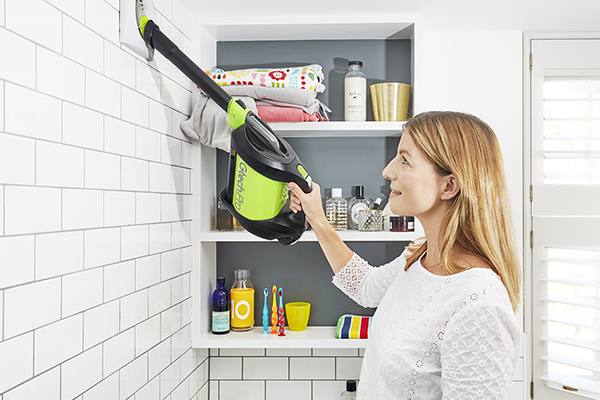 As well as your handheld vacuum, for some of the tips below, you will need:
• Multipurpose cloths
• Lubricating spray
• Fabric stain remover
• All-purpose spray cleaner
• Water
• Soft broom
• Soft cotton gloves
• Dishwasher soap or tablet
How To Clean Vertical Blinds Without Taking Them Down
Vertical blinds require relatively limited maintenance to keep them looking good. They tend to be made from PVC and practical fabrics which are wipe clean. Start with your vacuum with the dusting brush or crevice tool fitted, depending on whether you are dealing with thick dust or cobweb build up – for cobwebs, the open-ended crevice tool is ideal. Once all loose dust or other foreign bodies are removed, simply wipe down with a damp cloth to brighten up your blinds. We hope thats cleared up how to clean vertical blinds.
How To Clean Fabric Blinds Which Have Stubborn Stains
If you have vertical fabric blinds in your kitchen or bathroom, they can be prone to grease stains or watermarks which aren't so easily removed with the vacuum or cloth. If there are stubborn stains present, treat the area with a fabric stain remover before wiping down with your cloth. Make sure you follow the application instructions on the treatment and you'll have your vertical blinds looking good as new.
Don't Forget The Headrail
Although the louvres themselves are easy and quick to clean, one of the most important parts of your vertical blinds is the headrail that the blinds are fitted to. The smooth, dust free operation of the headrail will ensure your blinds open, close and tilt easily. To clean the headrail effectively, you will have to unclip each louvre, then use your vacuum's crevice tool to clean around and between the headrail mechanism. Once all the loose dust has been removed, spray along the length of the headrail with a lubricating spray and refit your louvres for smooth, convenient operation.
How To Clean Venetian Blinds
Venetian blinds that are left open provide a series of mini shelves for dust to gather on. Coupled with the narrow spacing and those sharp metal edges, you can have an intricate and time-consuming cleaning job on your hands… but not if you take our advice.
Get hands on…
Put your venetian blinds in the closed position so that you can see each slat, and the uniform layers of grime, in full. Add the dusting brush to your vacuum and work each slat from left to right to remove any loose dust – the brush has been designed to avoid marking any of the slats whatever the material.
Spray the slats with an all-purpose cleaning spray, or for metal venetian blinds, window cleaning spray works well (be sure to check the label on any cleaning solution you use though – you don't want any unsightly streaks or a sticky surface left for dust and dirt to cling to). Slip on a pair of soft cotton gloves such as gardening glovers or old winter mitts you don't need anymore, and use your fingers and palms to wipe off the spray. The gloves eliminate the risk of the slat's sharp edges as you put your fingers between each slat, and make it easier to cover every inch of the blinds quickly and you'll be able to feel if your pressure is bending the slats. Venetian slats can be delicate after all. Remember to repeat the process on the other side of the slats, by turning your adjuster fully the opposite way.
Removing any sticky residue
Again, if your Venetian blinds are hung in the kitchen or bathroom, or in a room where a smoker spends a lot of time, residue and stains can build up on your metal slats. Now, we know you were hoping to hear plenty of tips on how to clean blinds fast, but for thorough job on your Venetians, you will need to take a bit of time.
Put your blinds in the closed position and take them down from the window. Lay them on a clean pavement or driveway outside and spray with a multipurpose kitchen cleaner, or grease removing spray. Take a soft broom and sweep across the slats to remove any of the marks and repeat on the other side. Once brushed all over, spray vigorously with a hose to remove all suds and hang the blinds on your washing line to fully dry before re-fitting. It's a little extra effort, for extra sparkle.
How To Clean Roller Blinds
Roller blind cleaning can be conducted with a combination of the tips above. The structure of the roller blinds slats is like that of a venetian blind, horizontal layers, however this time, the material will likely be fabric and more akin to the verticals we covered first.
Always read the care label
Here we are going to propose a method for how to clean roller blinds, but whether you can follow this will depend on the care instructions that come with them. Roller blind fabric can be quite delicate.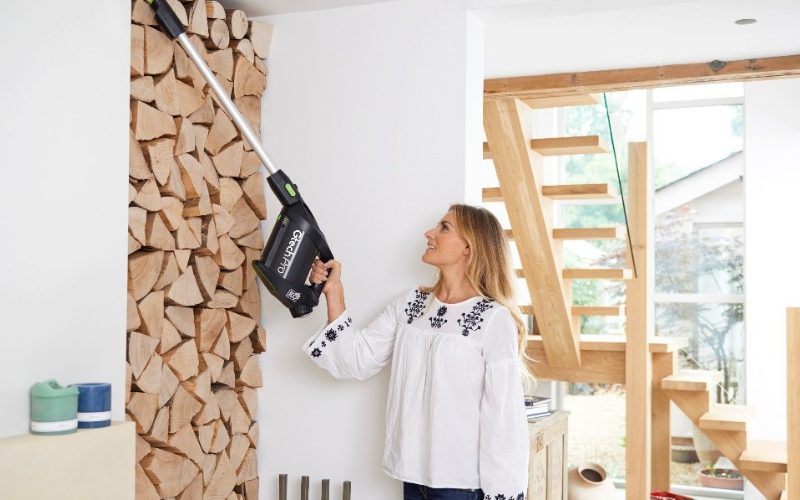 If they can't be washed…
…you have an excuse to be a little more laid back with the cleaning of them, as you will have to clean them in situ, but that doesn't mean they can be neglected. Regularly keep the fabric dust free with your vacuum and trusty dusting brush fitted, and clean across each slat to remove any loose dust or dirt. Then follow the steps for cleaning vertical fabric blinds above, but remember to only use any stain treatment very carefully – if the blinds can't be washed, they are clearly rather delicate.
If they can be washed, get them in the tub!
This is a great example of how to clean blinds at home with other everyday household items. Take your roller blind from the window and give it a preliminary vacuum once again. Then prepare a bathtub around half way with warm water and add 3 tbsp of dishwashing soap to the water (you could crumble in a tablet if that is all you have to hand). Stir vigorously until suds appear and add the blinds. Using a soft sponge, wipe across each slat on both sides. If there are any particularly tough stains, try using a toothbrush on the troublesome area. Then rinse off under the shower – be sure to thoroughly remove all soap residue as this will attract dust and dirt when re-hung. Hang out to dry and refit.
That's how to clean blinds easily....So whichever blind style you have at home, include them in your cleaning routine with Gtech. Equip yourself one of our handheld vacuums and accessories for a regular, hassle free de-dusting, or as a preliminary step in a deeper clean.