As the weather gets warmer and we approach the much-anticipated barbecue season, you want your garden to be the envy of the neighbourhood. Yet, mowing the lawn properly is no easy feat. From cutting the grass at the right height to knowing the best weather conditions, there are myriad mowing tips that you need to know to maintain an immaculate lawn.
So, whether it's a quick tidy-up or the first cut of the year, this post will tell you how to mow your lawn like a pro.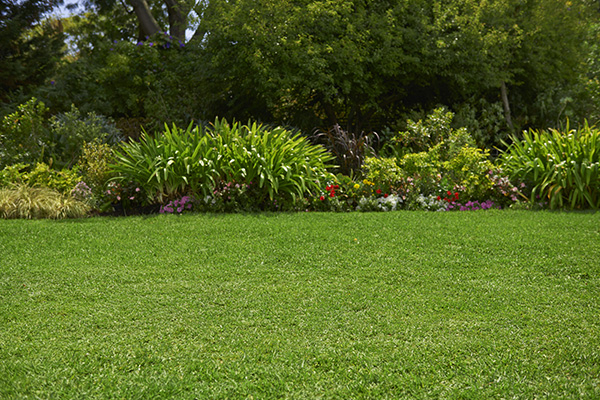 Service regularly
To deliver a clean, efficient cut, your lawnmower needs to be fully serviced - but what does this entail?
Firstly, the lawnmower blades need to be sharp. Chipped or blunted blades can damage and tear the grass, making your job more difficult. Thankfully, the carbon steel blades in the Gtech cordless lawnmowers are specifically designed to be durable while maximising airflow. You'll also need to check the engine isn't blocked by stray clippings and is topped up with fuel. Of course, this isn't a concern if you opt for a cordless electric lawnmower, as there are no petrol or cords to deal with.
TOP TIP: It's a good idea to service your lawnmower at the start of spring, before peak cutting season.
Get the right grass height
As tempting as it may be to cut the grass as low as possible and delay the next mowing session, your lawn will benefit from being cut at the right height. As a rule of thumb, grass should be cut at around 2.5–4cm tall. Grass that gets more wear, however, perhaps from the kids playing football, can be left to grow to around 4-5cm. Similarly, areas that are covered by shade can be left longer still, at around 7cm-8cm. Of course, if you are 'scalping' the lawn in high spots, you may need to raise the mowing height as these areas are often mossy and heavily weeded.
In any case, you should never remove more than one-third of the grass' length on any one occasion. If you go over this limit, you could stunt its growing potential and encourage weeds. Don't worry, though, you don't need to measure each blade of grass with a ruler; you can simply use an adaptable mower. Our Gtech cordless lawnmower, for instance, adjusts its speed to tackle varying grass thickness. There's even the option to control your cutting height by 10mm increments.*
TOP TIP: To give your lawn a professional finish, make sure each run up the lawn slightly overlaps the previous one. This ensures all the grass is cut and isn't simply being run over by the tyres.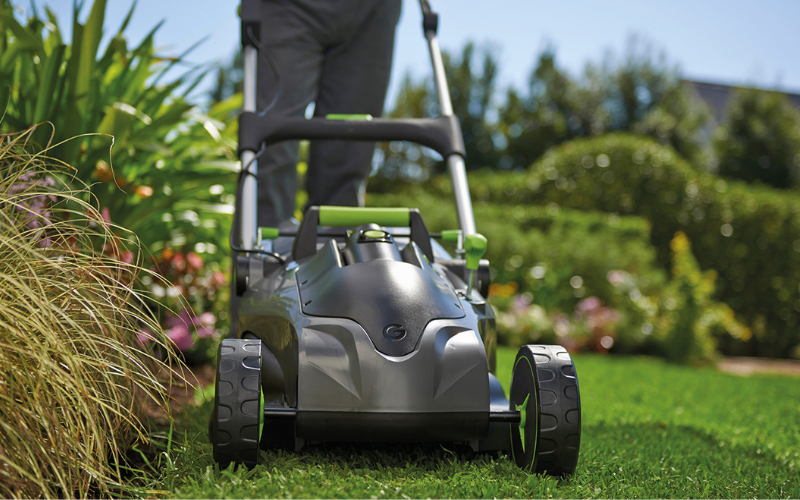 Know when it grows
To stay in line with the 'one-third' rule, you will have to amend your mowing schedule, depending on the time of year. In early spring, as your lawn grows more slowly, you can cut it every fortnight to keep it neat. When the weather starts to warm up in late spring/early summer, however, you may need to start up the lawnmower at least twice a week. If it's particularly hot or dry, it's better to err on the side of caution and raise the lawnmower's blade a couple of centimetres. That's because longer grass blades provide shade for the soil underneath, keeping moisture in the foliage for longer.
TOP TIP: Recently sown a patch of lawn? Wait until the grass is at least 4cm tall before cutting - they will be out of their 'active growing season' by this point.
Trim to the edge
Nobody wants to spend hours trimming their lawn only for it to be spoiled by overgrown edges. To keep your garden looking neat, take the time each spring to cut the edges using a half-moon edger. You'll also need to trim any overhanging blades of grass once you've finished a mowing session. For simplicity, try to find a lawnmower which has a wide cutting blade that can do most of the edge trimming for you. Our Gtech cordless lawnmower, for instance, comes with a cutting width of 420mm and a single sharp blade; this means you can mow close to the edge with fewer passes.
Otherwise, use a pair of edging sheers to tidy up after you've finished mowing or try our cordless Grass Trimmer to rid your garden of untidy blades of grass.
TOP TIP: You can tell cutting blades need sharpening if they leave a silver sheen or have a frayed look after being mowed.
Listen to the weather forecast
There's a reason your neighbours usually break out the lawnmower on the sunniest days of the year. This is because dry ground makes the mower less likely to smear and rut the soil, leading to a cleaner cut. Wet clippings, on the other hand, tend to clump, causing mowing speeds to slow. You should also pay special attention to the outdoor temperature before breaking out the mower. If it's too cold (below 5°C) or too hot (more than 20°C) grass will struggle to grow. As such, we recommend that you try to mow and sow grass seeds between 5-20°C.
Now you know how to cut grass properly, you're ready to tackle your lawn this spring. Browse our range of cordless lawnmowers to make a smooth start.
*10mm increments between 30mm-80mm.